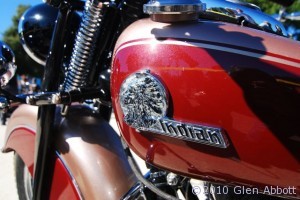 There is an undeniable charm to classic motorcycle technology and styling.  For better or worse, "they just don't make 'em like they used to:"  foot clutches, hand shifters, and kick starters come to mind. Classics like Harley Knuckleheads, Panheads and Shovelheads.  Indian Chiefs. The Flying Merkel  (well, maybe that's not a marque that immediately comes to mind, but I've always loved the name).
This nostalgia is why many manufacturers–while updating the technology–continue to manufacture and sell motorcycles that mimic the appearance of those sold in the 60s, 50s, or 40s. (Besides Harley and Indian, think Royal Enfield Bullet, Norton Commando and Triumph Bonneville T100).
While many of us ride newer bikes with classic styling, I have a deep admiration for those who ride and maintain the true classics.  It takes skill, patience and often a good bit of money to keep those motorcycles on the road.
I recently attended what was billed as "Russ and Bob's 9th Annual Panhead/Shovelhead Party at OB's" in DeLand, FL.  The event was a free, judged, classic bike show,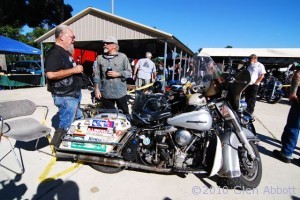 sponsored by OB's Restaurant, Cochise Chops Magazine, DeLand Meat Market and Custom Iron (Rat Bike and custom builder extraordinaire Andy Anderson from Custom Iron–see http://travelingringo.com/archives/173–tipped me off to the event).  Judges awarded trophies in stock and custom categories, and spectators voted on a "People's Choice" category, which included any bike that didn't fit into the Panhead or Shovelhead categories ("Panhead" was the type of engine Harley-Davidson produced from 1948 through 1965–the rocker covers resembled upside-down pans, while "Shovelhead"–whose covers resembled inverted shovels–were manufactured from 1966 through 1984).
Of the 60 or so bikes on display, several suberb and just-plain cool bikes stood out: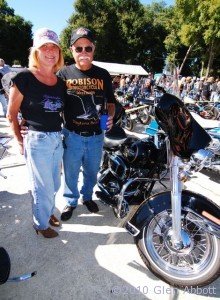 This 1984 H-D FLH-X Special Edition was bought new by Bill and Louise Oremovich of New Smyrna Beach, FL.  It's unrestored and all original.  Bill says it's serial number 1 of only 97 of the special editions made in black that year (another 97 came in white).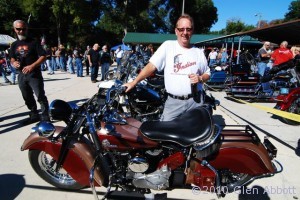 Bruce Grove of Port Orange, FL showed his beautiful '46 Indian Chief.  Painted Garnet and Mocha Frost, the bike is a stunner. Even more amazing, Bruce bought the bike, sight unseen, four years ago as a basket case (the bike parts were literally in boxes), and did most of the restoration himself.  He says he's already won an Award of Merit in the St. Augustine Riding into History Councours d'Elegance last May, but says "I built it to ride, not to show."  And ride it he does.
Here's Mountain Mike of New Smyrna Beach, FL with his '75 FLH Electra Glide. He bought it brand new in Denver, CO and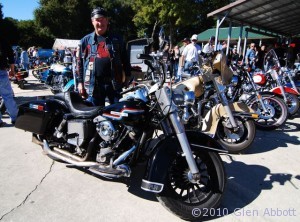 says he's put over 150,000 miles on it since then. It's a beauty. Love the original paint.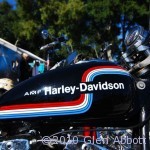 Click on this link for a photo album from this event: http://www.flickr.com/photos/travelingringo/sets/72157625426266167/