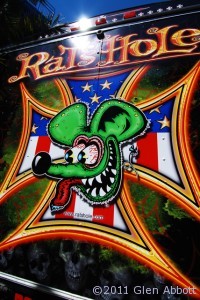 Daytona Beach, FL — Outrageous custom choppers are a dime a dozen nowadays.
Well, not really, I just said that to get your attention. I enjoy seeing them as much as the next biker, and some of these machines are truly rolling works of art. But one of the things I really like about the annual Rat's Hole Custom Chopper & Bike Show in Daytona is that there are trophies awarded in 22 categories — anyone can enter, not just the high-dollar custom builders. So you'll see anything and everything here — from ratty rat bikes to extreme choppers.
The Rat's Hole show is legendary.  Started by Karl Smith — a/k/a Big Daddy Rat in 1967, the annual show is a "must do" on anyone's Bike Week itinerary. A trophy from Rat's Hole confers instant bragging rights. Big Daddy passed on in 2002, but his son Ted Smith continues the tradition today.
This year's event didn't disappoint, with entries running the gamut from mile to wild. I've decided to feature a few bikes here that you might not have noticed at the show. They're not radical customs, just everyday rides for their owners, but unique and special nonetheless: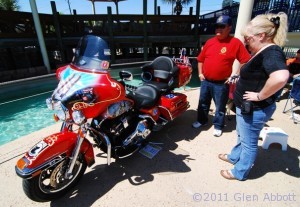 Bob Moore of Port Orange, FL brought his '03 Harley-Davidson ElectraGlide Ultra Classic, a tribute to 9/11. "9/11 really touched my heart," he told me. "I lost two good friends. I want to keep the memory alive, so no one ever forgets." Bob was working in the Bronx that fateful day, and he saw the 2nd airplane fly overhead on its fatal mission. His bright red Ultra Classic is painted as a tribute, featuring portraits of firefighters and emergency workers. He doesn't expect to win in his category, but just wants to help memorialize the heroes of  9/11. "This is an everyday rider, not a show bike," he says.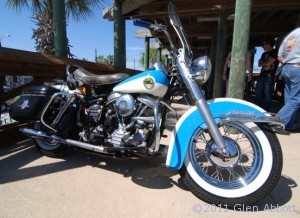 Mark Hampton of Port Orange, FL brought along a stunning, all-original, blue and white 1958 Harley FLH Duo-Glide with 37,000 original miles. "It was my dad's," he said. "He bought it brand new in '58. After he passed away a few years ago, I cleaned it up and I ride it regularly, and someday it'll go to my boy." It's great to see an old Harley like this, "All in the Family," as it were.
Last but not least of my personal highlights is Smitty's 1946 Knucklehead rat bike. Smitty, of Flat Lick, KY is well-known in biker circles. He's been coming to Daytona since 1971. Smitty will only give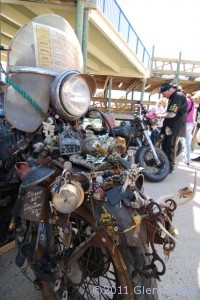 his age as "old," but I think he's being too hard on himself. His '46 Harley rat is a collection a collection of bits and pieces, "donated by people I've met and places I've been." A true rat bike, the Knucklehead motor is the bike's original, rebuilt for the first time just this year. The motorcycle shows 40,000 miles, but Smitty doesn't know its true mileage. "It was wore out when I got it, and I've put at least 40,000 miles on it since then!"
By the time you read this, the trophies will have been awarded and the bikes will have been loaded onto their trailers or ridden home, as the case may be. Winners or not, each bike in the show is special — particularly to their owners — and part of a Bike Week tradition.
FOR MORE INFORMATION: