Every dog has its day, as the saying goes, and Sunday afternoon, the Mystic Krewe of Barkus took to the streets for its 20th annual Mardi Gras parade. The krewe and its costumed canines strutted and strolled through the French Quarter, accompanied by marching bands and led by the requisite canine king, queen, duke and duchess.
The theme of this year's event: "Mission Impossible – Canine Protocol." Past themes have included "Jurassic Bark," "Lifestyles of the Bitch and Famous," and "Indiana Bones and the Raiders of the Lost Bark."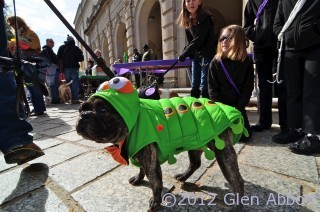 You just can't go wrong with kids and dogs. It's an irresistible combination, as anyone who's ever worked in print or broadcast journalism knows.
And dogs in costume? It's like hitting the Powerball jackpot.
What's that, Lassie? You say Timmy is lost at the Mardi Gras parade?
For more information on the non-profit Mystic Krewe of Barkus and its mission to help homeless animals: http://www.barkus.org/