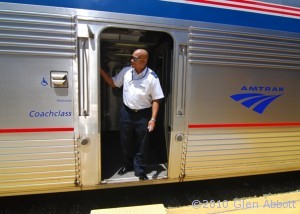 I waited for a conductor to shout "All aboard!"  And waited. Then waited some more; I was among the last to board the train. Finally, I asked an employee stationed at the entrance to one of the train cars if anyone actually does that anymore. She laughed and shook her head. "No one's ever said that as long as I've worked here." Darn. I thought that would have made a great beginning for the article I was writing for Harley's HOG magazine ("Planes, Trains and Motorcycles," Fall 2010 issue). I guess I'd need to find another hackneyed cliché.
I'd arrived at Amtrak's Sanford, FL terminal around noon on a hot July day, well in advance of the 2:00 pm deadline for loading my motorcycle—a 2006 Harley Road King—aboard the train, before the 4:00 pm departure. The 900-mile, 17-hour overnight journey was scheduled to arrive in Lorton, VA (outside Washington DC) around 9:00 am.
I'd be riding—and sleeping in one of the large reclining seats—in one of the train's passenger cars, rather than a sleeper car, saving a few bucks but foregoing the privacy and comfort of a private bunk.
The train rolled slowly out of Sanford 15 minutes ahead of schedule, gradually picking up speed. The ride was smooth and quiet; I found the gentle rocking motion to be relaxing. I struck up a conversation with Jim Whitman, on-board customer service chief who's been with Amtrak 17 years, who passed along a few helpful statistics: our train that day, consisting of 35 rail cars, carried a total of 378 passengers and 177 vehicles, only 3 of which were motorcycles. A pair of diesel locomotives, each one putting out a monstrous 8,000 horsepower, pulls the whole shebang. Top speed is around 70 mph. Jim told me that maximum vehicle capacity is 300, and that he's seen as many as 45 motorcycles carried at one time (Daytona Bike Week in March is always busy). The train is also particularly popular with "Snowbirds" who spend winters in Florida and want to bring their car with them.
Before dinner, I walked to the train's lounge car, ordered up a Sam Adams and grabbed a bowlful of complimentary snacks (Chex mix, I believe). I'd brought my laptop along, but wasn't able to get online using the train's wireless connection (Jim Whitman told me the wireless service was still "experimental," only available intermittently in the lounge cars). Fortunately, I was able to get online with my cellphone's EasyTether app to utilize it as a modem.
With the announcement for the 7:00 dinner seating, I walked to the dining car where I was seated at a booth with three other passengers. Attendants take your dinner order (which is included with your Auto Train ticket) and bring complimentary beverages, including carafes of red and white wine (Woo-Hoo!). Overall, it's a pleasant experience, bringing to mind travel in an earlier era, and offers a chance to chat with fellow passengers. Never mind that two of my dinner companions reminded me of Frank and Estelle Costanza and spent much of dinner in a spirited discussion about whether a Cadillac is superior to a Mercedes ("No way is a Cadillac better; are you kiddin' me?")
Appropriately fed, watered and stimulated by the dinner conversation, I made my way back to my seat, and eventually dozed off as the train hurtled northward into the night, its lonesome whistle echoing in the darkness. Early the next morning, we arrived in Lorton, I retrieved my Road King, and began the next part of my journey, on two wheels with the wind in my face and the sun at my back.
For More Information:
Amtrak Auto Train information: Click Here
News Update:
An article in the New York Times (12/30/10) reports that 74-year old Eugene Garfield, developer of the Auto Train, died at his home in Hollywood, FL earlier this week. Garfield founded the private Auto-Train Corporation and ran it from 1971 through 1981, when it folded due to economic problems. In 1983 Amtrak, the government-subsidized national rail system, revived the Sanford to Lorton route, and it continues to this day.