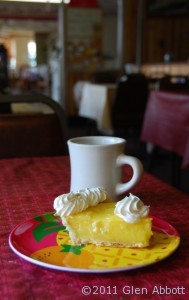 Thorn Hill, TN — There's something extremely comforting about stopping at a roadside restaurant for a cup of coffee and slice of pie when you're on a motorcycle trip; something very Mayberry R.F.D. about the whole thing.
Last fall I traveled to eastern Tennessee on my Road King to learn about moonshine. That's right, White Lightning; Corn Likker; Mountain Dew; Tennessee Tranquilizer; Granny's rheumatiz medicine. I came here to ride the White Lightning Trail, a network of backroads used by bootleggers and moonshiners back in the day to transport their hooch. Along the way I met some fascinating characters, rode beautiful backroads and mountain 'hollers,' and ate some great food.
At Clinch Mountain Lookout Restaurant, I tried something I'd never even heard of before: Vinegar Pie. The Clinch Mountain overlook sits along the East Tennessee Crossing Scenic Byway–US 25E–which runs from spectacular Cumberland Gap in the north to Cherokee National Forest in the southern part of the state. When you pull off at the overlook, you'll see a sign for the restaurant. But first, pull into the scenic overlook and soak in the incredible view of the lakes and valleys of the Great Smoky Mountains, then when you've worked up an appetite, head over to the restaurant.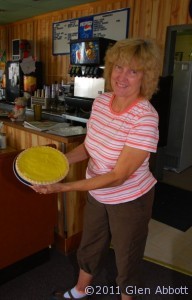 Restaurant owner Krystal Scott describes the taste as "like lemon with a kick," and I wholeheartedly agree. The pie looks like lemon custard, but vinegar has been substituted for lemons. The recipe supposedly originated during the Depression when vinegar was cheaper than lemons.
After your first bite, and the initial shock of vinegar taste, the pie is sweet and tart at the same time–great with a cup of black coffee. I loved it. I met a couple other bikers at the restaurant — Steve Slagle and Walter McQueen from nearby Greeneville, TN. Walter said they love to ride the area: "This here is biker paradise, any direction you go."  And they always try to stop for vinegar pie. Steve told me it "brings back memories of my aunt's cooking. She lived to be 91 years old; she had her own recipe."
When I told Krystal's husband Wayne that I was doing an article for Rider magazine about moonshinin' and the White Lightning Trail, he asked if I'd heard of Popcorn Sutton, a legendary and prolific local moonshiner. Sure, I said, did you know him? "Sure did," Wayne answered. How well, I asked? "About 300 quarts a month worth," he replied. Turns out Wayne once ran a watering hole that was supplied by Popcorn Sutton.
In these parts, moonshine and vinegar pie go way back.
FOR MORE INFORMATION:
http://clinchmountainlookout.com — Krystal and her husband also run Krystal's Clinch Mountain Cabins right by the restaurant. If you've had too much vinegar pie, or just want to spend the night overlooking a beautiful mountain valley, give them a call.
190 Lookout Mountain Rd.
Thorn Hill, TN 37881
865-767-2511