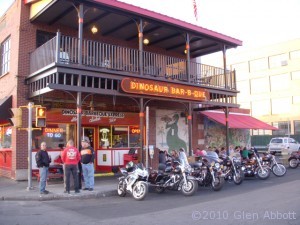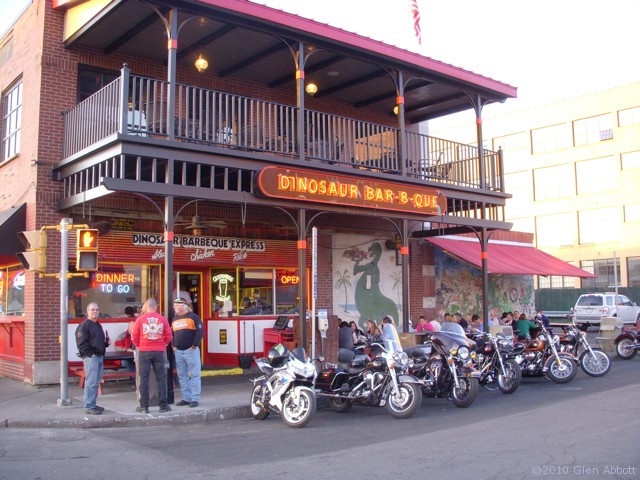 If there's one thing I've learned in the 37 years I've been a licensed motorcyclist, it's that bikers love good barbecue. Okay, I've been advised by my wife–an anthropologist–that one should never generalize about cultures or subcultures. But hey, I'm a biker, I love barbecue. Whenever I go to Dinosaur Bar-B-Que in Syracuse, NY, there's a buttload of bikes parked outside (well, maybe not at this time of year, but I digress). Ergo, I feel safe stating that bikers love BBQ.
I'm kind of picky about the stuff—I once lived in Kansas City, sometimes called the "world's barbecue capital," where smoked meat is considered an art form. For me, there's almost nothing better than a pulled pork plate or sliced, pit-smoked beef brisket—tender inside with a pink smoke ring around the edges—slapped onto a couple of slices of white bread or a bun, and slathered in spicy sauce. Accompanied with a side of fresh-cut fries and a cold draft beer, it can be a near-religious experience. Call it a "guilty pleasure," although I don't really feel all that guilty about it. Barbecue is only an occasional indulgence, but it's probably one of the things I'd miss most were I forced at gunpoint to become vegetarian.
It's also a given that barbecue tastes better eaten at a dive. "Upscale" and "barbecue" are a contradiction in terms. No doubt there are some fancy restaurants that serve great barbecue, but it just doesn't feel right. Wood-plank floors, formica-topped or wooden tables and a raucous atmosphere seem to be prerequisites for the good stuff.
Which brings me to Dinosaur Bar-B-Cue in Syracuse. It's not technically a dive—the restaurant opened in 1988 and the Travelin' Gringo's standards require pre-1970s for nomination to the National Dive Registry—but it's crowded, noisy, and serves great 'cue. Everything about the place feels—and tastes— right.
As I write this, it's the middle of winter here in Orlando, and I haven't been to Dinosaur since the summer while visiting Syracuse with my wife. At that time, we dined there twice during our three-day visit (my choice, not hers—she doesn't have quite the mania for BBQ that I do, but she's an incredible wife and tolerates my eccentricities). On the first visit, I ordered the "Big Ass Pork Plate" (Dinosaur's menu designation, not mine). No doubt the name refers to the size of the portion, but it might also refer to that part of the customer's anatomy should he indulge in the dish too often .  On the second visit I had the sliced brisket/pulled pork combo plate.  The meats at Dinosaur are exactly as they should be: tender, smoky and delicious. You choose the sauce you like from among the various bottles of Dinosaur's homemade sauces on each table; everything from sweet to spicy—it's all good. Fries are fresh-cut; the vegetable of the day was mustard greens–which I love–and Dinosaur has a great selection of beers on-tap and in the bottle.
The restaurant has exploded in popularity since opening its doors in Syracuse in 1988, and has added locations in Rochester, Troy, and Harlem, NY. While I haven't been to the other locations, I can tell you that Dinosaur's BBQ is some of the best I've found outside of Kansas City. I give Dinosaur Bar-B-Que a BIG "thumbs up!"
FOR MORE INFORMATION:
http://www.dinosaurbarbque.com
Dinosaur Bar-B-Que
246 W. Willow St.
Syracuse, NY 13202
315-476-4937