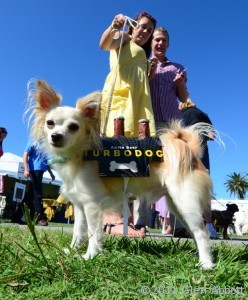 [New Orleans, LA] — Rarely does a day pass that I don't utter the statement "Beer is Good," with all the profundity one can summon for such a pronouncement. Normally, this proclamation occurs sometime around the hour of 6:00 pm, after I've popped the top of an IPA or similarly-flavorful brew and taken my first appreciative sip. The recipient of this sagacious statement is almost always my wife, who usually humors me by smiling or at least rolling her eyes (not being a beer drinker, she doesn't really seem to share my enthusiasm).
This weekend, I consented to vary my routine for a good cause. New Orleans on Tap is held at City Park (this year's event was the second annual), and it's a fundraiser for the Louisiana SPCA. Last year's festival raised over $27,000 for the organization.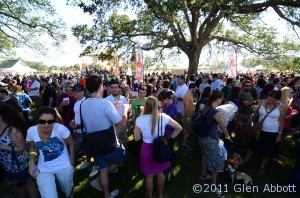 Because of the SPCA connection, it's one of the most pet-friendly (and family-friendly) beerfests I've ever attended. Thousands of people and their pets mingled under the oak trees, enjoying live music and sampling over 200 beers (in the case of the pets, large dishes of liquid refreshment were placed on the ground throughout the festival site; I believe the pets were only able to sample tap water in these dishes as opposed to the vast array of beer available to adult human visitors — let's face it, it sucks to be a dog at such times). Admission was free; you purchased tickets for beer — $20 got you 22 tickets and beer samples cost between 1 and 3 tickets, or you could get a full-size cup for around 5 or 6 tickets, depending on the brand.
The SPCA offered information and opportunities for pet adoption, and there was even a "Kissing Booth," where for a donation, you could be slobbered upon by an extremely friendly Boxer.
Beer is good, and the SPCA is a good cause, so I knew I was performing a valuable public service here. Stay thirsty, my friends.
FOR MORE INFORMATION:
Louisiana SPCA: http://la-spca.org
New Orleans on Tap: http://neworleansontap.org