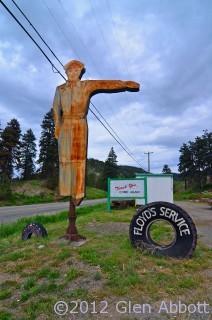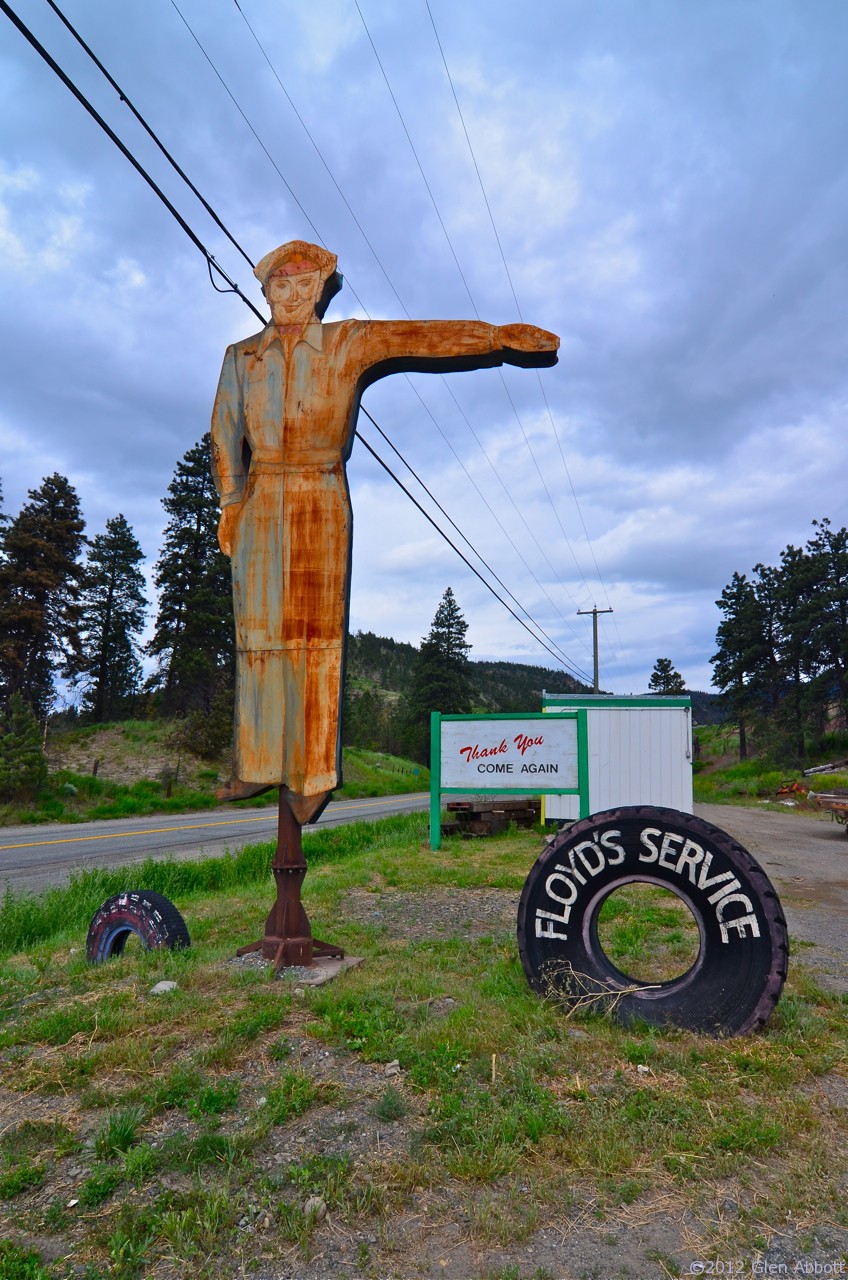 [British Columbia, Canada] — Regular readers of the Travelin' Gringo are probably aware of my fondness for tacky roadside kitsch.
To me, giant fiberglass "muffler men," Sinclair Dinosaurs, or falling-down barns painted with "See Rock City" are irresistible. They speak to a bygone era in transportation — a time when gas was cheap and cars were huge.
These roadside relics are rapidly disappearing due to the ravages of time and progress. Whenever I see one, I feel compelled to stop and take photographs, and I always wonder how it came to be there.
Sometimes it's easy to learn the backstory, as in the case of the giant Muffler Man I wrote about in Metairie, LA. I've found roadsideamerica.com to be a great resource, and often just stopping to talk to people can yield a wealth of information.
Other times, usually in out-of-the-way places, the story gets a bit murkier, like this rusting Gas Station Man I found sitting in front of a tire shop in British Columbia, Canada.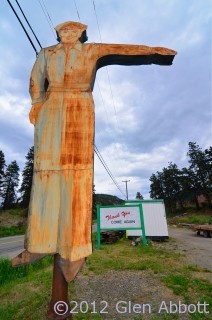 He was somewhere between Hell's Gate and Lillooet, but I didn't think to write down the location at the time. And because I was somewhat preoccupied with covering a lot of ground before nightfall, I didn't look for anyone to talk to onsite.
Judging from his appearance, I'd guess he's a relic of the 1950s or 1960s, beckoning travelers with the promise of friendly full-service.
HOG members can read about my trip to British Columbia in the magazine's current issue (#014, Spring '12); the story is called "From Sea to Sky."
If anyone knows more about this roadside icon, I'd love to hear about it. Wish I'd asked a few questions while I was in the area.
I'll know better next time.
FOR MORE INFORMATION ON BRITISH COLUMBIA, CANADA:
Tourism British Columbia: http://www.hellobc.com/
Vancouver, Coast & Mountains official tourism site: http://vcmbc.com/