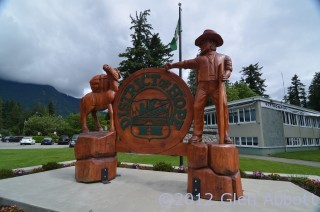 [Hope, BC, Canada] — "Chainsaw" and "art" are words you don't often find used together in the same sentence. Unless you happen to be a big fan of the 70s horror film "The Texas Chain Saw Massacre," of course.
If you haven't been to the town of Hope, in Canada's westernmost province of British Columbia, then you're in for a double treat: not only is Hope the "Chainsaw Carving Capital of the World," it's also the location where the movie  "Rambo: First Blood" was filmed in 1981 (I don't believe there were any chainsaws involved in that, however).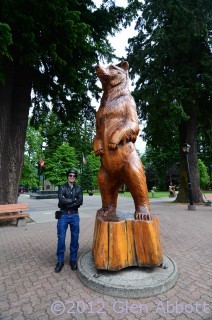 Hope is located at the edge of the Fraser Canyon, surrounded by the Coast and Cascade Mountains. The place is littered — well, not literally littered, but alliteratively littered in a less literal, more figurative sense — with the work of mad chainsaw artists. Well, since I'm inserting so many qualifiers here, the artists probably weren't really mad — maybe slightly pissed off, is all — but more accurately, they were fanatical about creating art out of massive tree trunks, using the common, ordinary, household-variety Texas Chain Saw Massacre-type chainsaw.
Consequently, more than 50 examples of the chainsaw artists' finest dot Hope's tiny downtown. Most of the carvings reflect natural or historic themes from the area; wolves, giant bears, and whatnot.
I passed through the city last year on a motorcycle while writing an article for HOG magazine (recently published in the Spring '12 issue). Hope is part of British Columbia's spectacular "Sea to Sky" route, beginning in Vancouver, winding through Fraser Valley and along part of Canada's historic Gold Rush Trail, up through Lillooet  and descending through Whistler, from the mountains to the coast of Vancouver.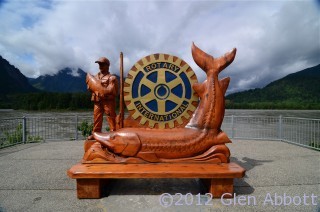 If you're in the area, it's well worth stopping in Hope — a scenic small town with some really big chainsaw carvings.
Isn't it time we all paid homage to the art of the chainsaw?
For more information:
British Columbia official tourism:  http://www.hellobc.com/hope.aspx