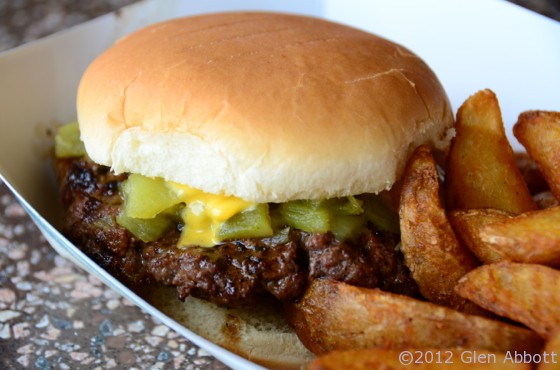 [Hatch, NM] — As bikers, we're constantly on the lookout for memorable roadside dives.
Great barbecue, a great bowl of chili, a great cheeseburger — the list goes on and on. "Live to ride, ride to eat" could even be a twist on the popular biker refrain.
On a recent ride through southwest New Mexico, nearly everyone I spoke to told me I HAD to go to the town of Hatch and have a green chile cheeseburger at Sparky's. I'm not exaggerating here — random people I spoke with who found out that I was traveling on a motorcycle told me I couldn't miss Sparky's, speaking in reverential tones about their green chile cheeseburger.
Even an elderly volunteer park ranger at a lonely ghost town I visited — when I told her I was heading to Hatch — said, "Oh, you're gonna get a green chile cheeseburger at Sparky's!"
Hatch is truly the Town that Chile Built, if you will.
Not for nothin', Hatch is known as the Chile Capital of the World. It's a town that lives, eats, and breathes chile peppers. The town is surrounded by fields of peppers, chile processing factories, and chile roasting facilities large and small.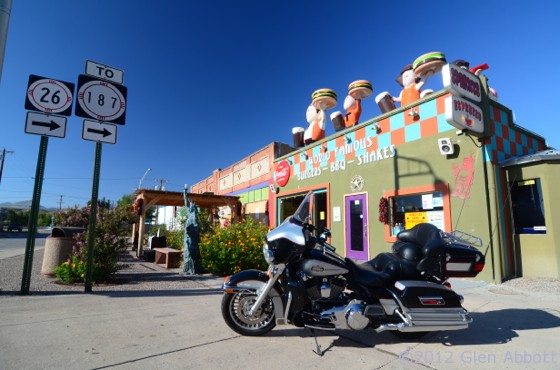 Cruising into Hatch, I knew I'd arrived at the right place when I spotted a collection of fiberglass figures on and around a small building that looked like it could have been a gas station or store at one time.
On the restaurant's roof, a collection of A&W Root Beer figures. Next to the building, a giant Uncle Sam with his outstretched hand grasping a green chile pepper. Across the street in its parking lot, more figures. Next door, at the RV dealership (run by the same family who owns the restaurant, I found out later), a giant muffler man, holding a toy Winnebago in his hand.
Roadside kitsch at its absolute finest. I loved this place already.
The restaurant was busy, even at 3:00 pm on a Friday afternoon, well past lunch hour.
Biting into my cheeseburger, a shaft of light shone down from the heavens and a holy chorus sounded. I may be exaggerating slightly, but it was THAT good. A juicy beef patty topped with roasted green chiles and a slice of melted cheese on a fresh bun.
I spoke with manager Michelle Archer, and learned the restaurant's unholy secret.
"Our beef is like 70-something percent, it's like the highest fat content that we can get. Which is really good for you, I'm sure," Michelle laughed. "We just put our Great American Seasoning Salt on it, green chile, and top it with cheese, and that's the basics."
So simple, yet so elegant.
In addition, "we also put a lot of love into it. I know that sounds corny, but… that's what we do!"
Take it from me, if you're anywhere near Hatch, NM, you owe it to yourself to make the pilgrimage to Sparky's.
Besides, I hear that the green chile kills off calories and cholesterol (I just made that part up, but if you repeat it often enough, it becomes true).
C'mon, you know you want to.
FOR MORE INFORMATION:
Sparky's Burgers, Barbeque, & Espresso
115 Franklin St.
Hatch, NM
(575) 267-4222
Hours:
Thursday through Monday: 10:30 am – 7:00 pm
Tuesday and Wednesday: closed