Biketoberfest is basically the kinder, gentler version of Daytona Bike Week — 4 days instead of 10; 125,000 attendees rather than half a million (give or take a few tens of thousands) — but it's no less colorful and no less fun.
Perfect weather this year (sunny, highs in the 80s, lows in the 50s) no doubt helped boost attendance — Rossmeyer's Destination Daytona, for example looked every bit as crowded and crazy as it does during Bike Week, and I'm sure all the vendors — Main Street, Beach Street, the Speedway and all the rest — had a good year. And Indian Motorcycle of Daytona Beach opened just in time for Biketoberfest in the old Rossmeyer's H-D store on Beach Street, helping draw visitors to what otherwise could have been a declining area.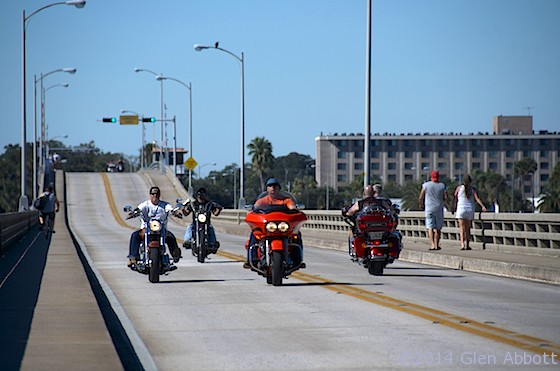 Biketoberfest 2014 runs through Sunday, Oct. 19; next year's dates are Oct. 15-18.
And Bike Week 2015 is March 6-15, so it's not to soon to start your spring planning!
Check out the photo gallery: