The Rat's Hole is THE place to be on the last Saturday of Daytona Bike Week. And you don't even need to call the exterminator.
The 43rd annual edition of Rat's Hole Ride-In Bike Show took place this year in the lot behind the new Indian dealership on Beach Street in Daytona (former site of Daytona Harley-Davidson), and admission was free.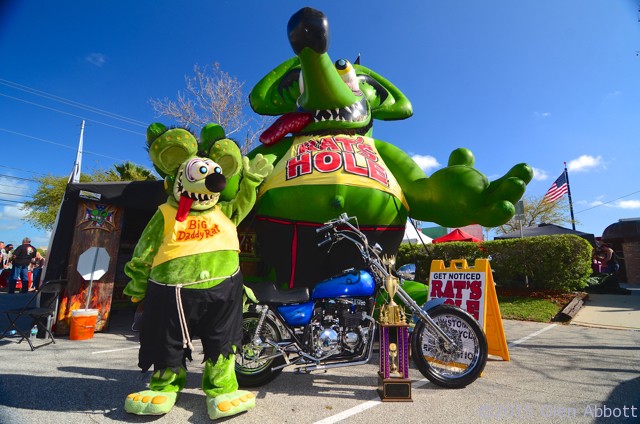 A longtime Daytona favorite, the bike show was started by Karl Smith, a/k/a "Big Daddy Rat" in 1972. He passed away in 2002, but his legend lives on and his son Ted produces the show today.
Featuring 18 classes, you'll see anything and everything here, from high-dollar customs to ratty rat bikes and vintage iron. Winning one of the really cool rat-shaped trophies confers instant bragging rights.
The next Rat's Hole show takes place at the Leesburg Bikefest on Saturday, April 25, 2015 (Leesburg Bikefest runs 4/24-26), so if you missed Daytona you can come out to Leesburg to get your rat on!
Check out the Rat's Hole Daytona 2015 photo gallery: