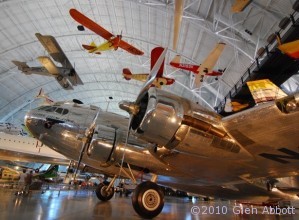 Nearly everyone is familiar with the Smithsonian Air & Space Museum on the National Mall in Washington, DC.  The original Wright Brothers airplane and Charles Lindbergh's Spirit of St. Louis rank among its better-known artifacts, and the museum attracts more than nine million visitors a year.  Its sister facility in northern Virginia near Washington-Dulles Airport is perhaps not as well known, but it's equally impressive.
I first learned of the National Air and Space Museum-Steven F. Udvar-Hazy Center (long name, right?) while doing research for an article for the Fall 2010 issue of Harley-Davidson's HOG magazine.  I'd already figured out the theme of the piece, "Planes, Trains, and Motorcycles:"  I wanted to take my '06 Harley Road King from Florida to Washington aboard Amtrak's Auto Train (so the "Trains" angle was covered). And I planned to ride from there to York, PA for a tour of Harley-Davidson's Vehicle Operations facility, where Harley builds its big bikes and trikes (thus covering the "Motorcycles" part of the title). But I needed something aviation-related in order to incorporate "Planes" into the theme. I hoped to avoid the congestion of central Washington, DC–not my idea of a great motorcycling destination–and my friend Jim Hays (who rides an H-D Electra Glide Ultra Classic and is also an aviation buff) suggested the Udvar-Hazy museum in nearby Chantilly, VA.  Bingo!
Throw in Skyline Drive in Virginia's Shenandoah National Park for good measure, and a Tour article was born: an overnight trip from Florida to DC on Amtrak; then DC to Shenandoah National NP on the Harley; continue to Harley's factory in York, PA; and wrap up in Chantilly, VA at the Air & Space Museum.  Planes, Trains &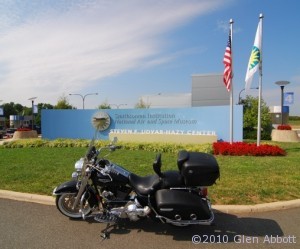 Motorcycles, although not necessarily in that order.
Fast forward to Chantilly, VA:  As I wheeled the Road King into the museum's parking area, a group of 20 Harley-Davidson motorcycles rumbled into the lot behind me and parked nearby. I noticed that many of the riders and passengers displayed HOG (Harley Owner's Group) patches on their jackets and vests.  I was writing an article for HOG magazine, and a bunch of HOG members had just arrived for a tour of the facility!  Too cool–it's the kind of happy coincidence you can't ignore. Turns out the friendly, enthusiastic group (members of HOG's Deer Lake chapter in Reading, PA) was on their annual "Mystery Ride," planned by group leaders Tom Herb and Sid Barlett. They'd made arrangements for a guided tour, and invited me to tag along.
Museum docent Bill Krayer led the group through the facility. Bill is a retired Navy pilot and flight instructor and owns an '03 Harley Sportster ("A historic bike," he joked. "The only one left with all original parts!").  Bill led us on a fascinating tour of the museum–he is a fount of information, and offered many details we wouldn't have gotten had we simply gone on a self-tour.
The museum's collection is most impressive, even for someone like me who hadn't previously been an aviation enthusiast.  The huge main display hangar is 10 stories high and the length of three football fields.  You can't fail to be "wowed" by its treasure trove of aviation and space artifacts, which includes the Enola Gay (the Boeing B-29 Superfortress which dropped the first atomic bomb in World War II), an Air France Concorde, an SR-71 Blackbird spy plane, and the Space Shuttle Enterprise. All told, the collection comprises 161 aircraft, 160 large space and missile artifacts, and thousands of smaller items. There's also an IMAX theater, museum store, and a restaurant.
The guided tour lasted about two hours, and the IMAX movie added an additional hour. We all "oohed" and "ahhed,"suitably impressed with the experience.  "Thank God to the Smithsonian, for preserving what we've got," Tom Herb from the HOG group said.  I'll second that!
More Information:
Website:
http://www.nasm.si.edu/udvarhazy/
Address/phone:
14390 Air and Space Museum Parkway
Chantilly, Virginia 20151
703-572-4118
Hours:
10:00 am – 5:00 pm (every day except Dec. 25)
Admission to the museum is free, but parking is $15.
Additional charge for IMAX movies