York, PA–it's where Harley-Davidson builds its big bikes (Sportster, Dyna and V-Rod motorcycles are assembled in Kansas City). Harley's York Vehicle Operations is home to the Softail, Touring and CVO assembly lines, as well as the Tri-Glide trike line, new for the 2011 model year.  As the proud owner of a 2006 Harley Road King, I was excited to take the factory tour recently as part of an assignment for Harley's HOG Magazine. Even better, I got to take pictures (normally you're not permitted to take cameras on the factory tour).
When you arrive at the Vaughn L. Beals Tour Center and check in for the free tour, you'll be given a pin to wear with the slogan "Walk the Line."  It isn't an empty promise, either: the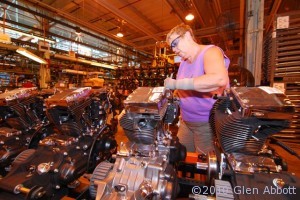 guided tour takes you out onto the factory floor, up close and personal with workers–both human and robotic–machinery, and metal.  Some parts are fabricated on-site–fenders and fuel tanks, for example–while motors and fiberglass parts (like fairings and saddlebags) are shipped from Harley's Milwaukee factories.  You'll see presses stamping out fenders and fuel tank halves, which are robotically laser-trimmed, and you'll watch motorcycle frames as they move along the assembly line on J-hooks, slowly transforming from pieces and parts to complete metal masterpieces. "The bikes are built according to dealer orders, not batch built," tour guide Janice Caruso told our group. "Every motorcycle on this assembly line is already sold to a dealer."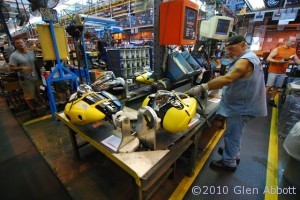 From the assembly line, each bike is individually "roll tested" on a dynanometer, where it is evaluated by specially-trained employees for sound and performance. "You'll notice the roll test seldom goes over 70 mph," Janice said. "That's because Harley riders never exceed the speed limit, I'm told," she said to laughter from the tour group.
Whether or not you ride a motorcycle, the one-hour tour is fascinating, a showcase of Harley's heritage–they've been in business since 1903, so they must be doing something right–and a sign that American manufacturing can adapt with the times. Sure, Harley workers have been down-sized and have made painful labor concessions, but the pride among the employees here is obvious–many of them wear Harley clothing and sport Harley tattoos on their bodies.  It's a level of commitment and loyalty you don't find in many other industries. The workers here are as proud to make Harleys, as we–and they–are to ride them.
For more tour information, click on this link:
http://www.harley-davidson.com/en_US/Content/Pages/Factory_Tours/york.html
Harley recommends you call ahead (1-877-883-1450) as tour schedules can vary, depending on manufacturing requirements.