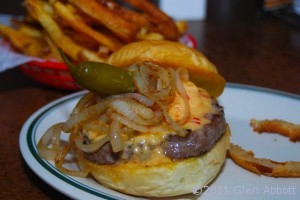 Knoxville, TN — Road food. It's one of the things I love most about traveling. Burgers, BBQ, and Beer: the 3 B's of life on the road (but I don't indulge in the beer until the motorcycle is parked for the evening). Traveling provides the best excuse for eating the stuff I don't usually have at home.
Last fall, I rode from Orlando to Knoxville to trace Tennessee's "White Lightning Trail" for an upcoming article in Rider magazine. I wanted to ride the infamous "Thunder Road," a loosely-defined network of back roads used by moonshiners back in the day to outrun the revenue agents who pursued them. Tennessee has embraced its likkered-up history and has even mapped out a route in the southeastern portion of the state that lets you follow in the footsteps of the bootleggers and moonshiners.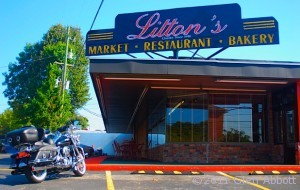 First stop in Knoxville: Litton's Market, Restaurant & Bakery. Litton's is known for its great burgers and desserts. I looked forward to trying their signature "Thunder Road" burger—1/2 pound of fresh ground beef topped with pimiento cheese, sauteed onions and a jalapeño pepper.
Litton's started out as a grocery store, hardware store and gas station in 1946. Third-generation owner Barry Litton moved the business to its present location 30 years ago and opened a meat market. "A gentleman came in one day, said, 'can you fix me a burger?'" Barry Litton recalls. "I said yeah, and pulled out an electric skillet we used for my own lunch. I cooked up eight ounces of hamburger meat with two strips of bacon. Next day, he brought three people back and they all wanted me to cook them burgers." And that's how a Knoxville institution was born. Litton's today grills up around 3,000 burgers a week and goes through 2,500 pounds of potatoes for their fresh-cut fries. The restaurant has a bakery on-premises too, but I was so full after consuming my burger and fries I couldn't bring myself to try any of the delicious-looking treats.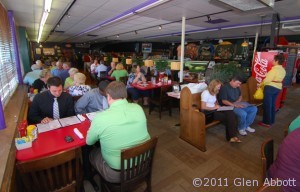 I sat at the counter, and manager Nick DeVore served me up a burger and fries. "I threw a couple onion rings in there too, so you could try 'em," he told me. Suffice it to say, the burger was great: juicy and fresh; the pimiento cheese and grilled onions the perfect topping, the bun freshly-made in their bakery. The fries and rings were delicious, too. I'll confess, though, to leaving the jalapeño pepper—much as I love them, I just don't have the cast-iron stomach that I used to!
Barry Litton says that between lunch and dinner, the restaurant serves 6,000 people a week. Despite the high volume, Litton's still feels like a family diner with friendly servers and great food. It's a recommended stop on your own "Thunder Road" tour.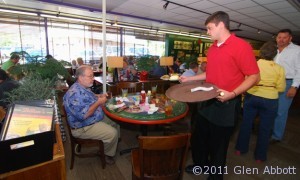 FOR MORE INFORMATION:
Litton's Market, Restaurant & Bakery
2803 Essary Road
Knoxville Tennessee 37918
(865) 688-0429
11:00am – 8:00pm Mon – Thur
11:00am – 10:00pm Fri – Sat
Closed on Sundays
http://www.littonsburgers.com/