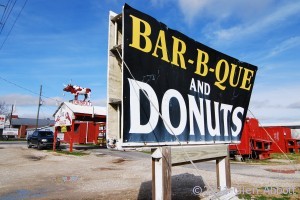 Sulphur, Louisiana — Sometimes you just know a place is gonna be good. When I'm on the road, I love to eat in local joints. Just passin' through a small town, you've gotta use your intuition, and sometimes it's a crapshoot.
Riding through Louisiana, doing an article on the state's bayous and backcountry for HOG magazine gave me lots of opportunities to try local food. One of my favorites was a breakfast omelette with crawfish and shrimp. But that's another story.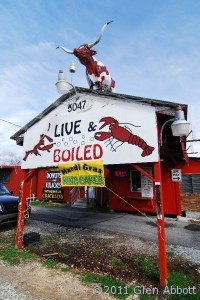 When I rode past a barn-red shack in Sulphur, Lousiana — near Lake Charles — with a fiberglass steer on the roof, it looked promising. What sealed the deal for me, though, was the aging sign out front with yellow and white letters on a black background, advertising "Bar-B-Que and Donuts." Now, that's a combination I challenge anyone to resist. I rapidly braked my Harley Ultra Classic , executed a quick U-turn and pulled into the gravel parking area.
After taking a few pictures, I walked over to the takeout window. "You look like a tourist!" joked the young lady at the window. I asked whether there was a seating area or if the restaurant was takeout only. "Sure, go around to the back," I was told.
In the dining room, the same young lady was my server. Turns out Amanda Evans and her partner Bobby Ramirez bought the restaurant just two weeks ago; the place had been in operation for about 15 years previously.  "It's been going real well so far, we've even picked up a few catering jobs," she said.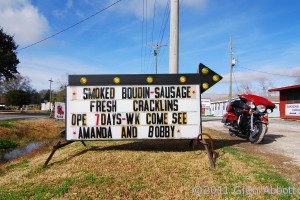 Amanda told me the donuts were gone (damn!),  but I ordered some barbecue (anyone who's read The Travelin' Gringo blog knows I'm a BIG BBQ fan). And for good measure, I asked for some boudin. I'd learned about boudin (pronounced "boo-DAN") a couple of days earlier on my ride.
Boudin is a Louisiana Cajun treat — like a sausage, only stuffed with pork, rice and spices. You can eat it for breakfast, lunch, or dinner. Even gas stations and convenience stores in Cajun country sell it, and from my experience so far, it's all great! It's one of my new favorite foods, calories and cholesterol be damned.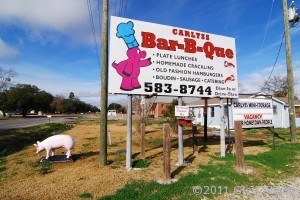 So Amanda made me up a special plate with sliced beef brisket and a link of boudin. The beef brisket was tender and juicy, as was the boudin; all with a great, smoky flavor. Amanda told me she usually makes bread pudding for dessert, with leftover donuts, although she hadn't prepared any today.
That sounds like something worth coming back for.
FOR MORE INFORMATION:
Carlyss BBQ
5047 Highway 27 South
Sulphur, LA 70665
337-583-8744
http://carlyssbarbequedonuts.amlnk.com/