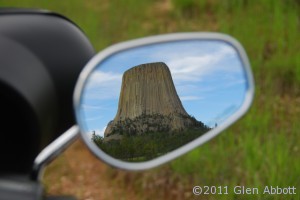 Devils Tower, WY — If you're of a certain age — that is to say, "old," like me — you associate Devils Tower, Wyoming with one thing: UFOs, of course. The 1977 sci-fi blockbuster Close Encounters of the Third Kind featured the tower in a starring role, a secret government landing strip for alien spaceships tucked at its base.
Last June, I rode a Harley-Davidson Electra Glide touring bike on a 2000-mile trip around Wyoming, Montana and South Dakota, focusing on sites of significance in Native American culture for an article in HOG magazine ("Houses of the Holy: A Reverent Ride through Black Hills, Big Sky, and other Sacred Lands," Summer 2010 issue). Rounding a bend on Wyoming state road 24, a sense of awe filled me as I spotted the tower's unmistakable silhouette in the distance. No doubt Native Americans felt the same way hundreds–or thousands–of years ago. The native Lakota called it Mato Tipila (Bear Lodge), investing the place with deep spiritual significance; Native Americans today continue to hold sacred ceremonies at the tower, particularly during the month of June.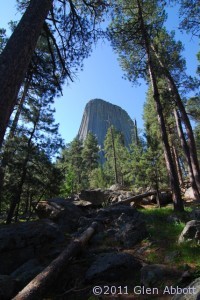 Devils Tower is the nation's first national monument, proclaimed by president Theodore Roosevelt in 1906. Today, the site attracts in excess of 400,000 annual visitors. Its iconic stone formation juts 867 feet into the sky, base to summit, and 1,267 feet above the nearby Belle Fourche River in Wyoming's northeast corner.
My night's lodging was practically a stone's throw away: Devils Tower Lodge is a bed and breakfast and "wilderness climbing retreat" whose back porch sits a mere 800 yards from the tower just outside the boundaries of the park. You get there by entering the park and going down a dirt road. Frank Sanders, the proprietor and as interesting a character as you're ever likely to meet, will be happy to give you directions.
Frank first came to Devils Tower in 1972 while hitchhiking across the country. He moved to Wyoming in 1976 and has climbed the tower nearly 2,000 times. He purchased the lodge in 1999 (it had been owned by a former park superintendent), and has guided hundreds of climbers to the tower's summit.  "Climbing on the tower is a religious experience," Frank says. "Always has been, always will be. Climbing in itself is so pure. You have laser focus, it's a heightening of the senses."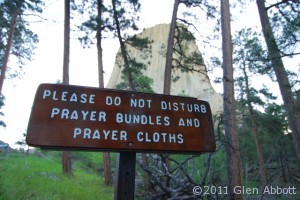 I should note here that climbing Devils Tower is not without controversy. Some Native Americans consider climbing it to be desecration of a sacred site; the National Park Service maintains that climbing is a "legitimate recreational and historical activity at Devils Tower," but as something of a compromise has instituted a voluntary climbing moratorium each June to "promote understanding and encourage respect for the culture of American Indian tribes who are closely affiliated with the Tower as a sacred site" (quotes from http://www.nps.gov/deto/faqs.htm). It's obviously an issue with strong feelings on both sides and with little chance of ever being resolved to the complete satisfaction of either.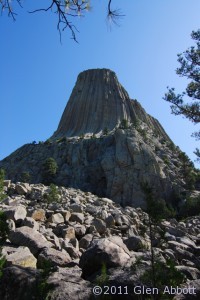 At 5:40 the next morning, I awoke to a view from my bedroom window of the sun's golden rays splashed across the tower's northern face. Shower, coffee, breakfast and I left the lodge and rode back into the park, where from the visitor's center I hiked the 1.3 mile paved trail that circles the tower's base. Along the tranquil trail, I watched turkey vultures soaring overhead, enjoying a bird's-eye view I could only dream about. Boulders lay strewn at the base of the tower, looking as though they had just tumbled there yesterday. I noted pieces of colorful fabric and pouches tied to tree branches: Native American prayer offerings, I was told by a park ranger who happened to be Native American. Out of respect, visitors are advised not to disturb or photograph the items.
No matter your cultural background, Devils Tower is a place of stunning beauty and deep spiritual significance. Frank Sanders of Devils Tower Lodge summed it up poetically: "There is a certain power in the tower that's undeniable but undefinable."
FOR MORE INFORMATION:
Devils Tower National Monument (National Park Service website)
Devils Tower Lodge:
P. O. Box 66
Devils Tower, WY 82714
888-314-5267
http://www.devilstowerlodge.com/