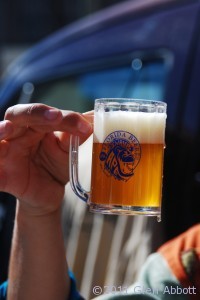 DeLand, FL — "Beer Festival" — there's no happier combination of words in the English language. I realize that beer is a recurring theme of the Travelin' Gringo lately. But good beer makes me happy. As I said in my last post (referring to the products of America's megabrewers), life is too short to drink tasteless swill.
I do want to point out, however, that I don't drink and ride (or drink and drive, for that matter). As a fifty-something adult, my reaction times are slow enough as it is and I don't need to do anything to make them even worse. If I'm at an event or a restaurant, yes, I may have one beer, but I always accompany it with food and wait long enough for it to be metabolized before going on the road. Whatever your age, you owe it to yourself and others to be sober and sharp when operating a motor vehicle.
With that in mind, the lovely Mrs. Travelin' Gringo dropped me off Saturday at the Second Annual DeLand Craft Beer Festival, leaving me to roam around for a few hours sampling various craft beers and microbrews, with no worries about transportation — she was only a phone call away.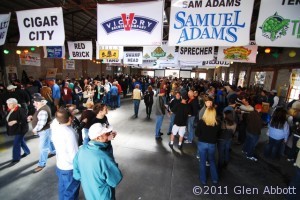 Craft brewing in the US has experienced a renaissance in recent years. According to Zach Thoden, Blue Point Brewing Company's Florida sales manager, sales of domestic beers  are down, import beer sales are flat, but craft and microbrew sales are up around 30%. Why? "It's an affordable luxury item," Zach says. "People are realizing the taste they can get in a craft beer."
I sampled Blue Point's Toasted Lager, their flagship brew. Wow! Heaven in a cup; clean, crisp and refreshing. Zach had also brought along the brewery's Hoptical Illusion, what he describes as an "East Coast" style IPA. "Balanced, clean, sessionable, with more of a floral and citrus nose," he says. "West Coast style IPAs are more 'in your face,' pungent and hop-forward." I realize I'm probably using too much beer jargon here; suffice it to say I'm very fond of India Pale Ale — East Coast or West Coast, it's all good.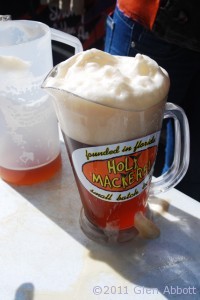 Some other highlights:
Lazy Magnolia Brewing Company, Mississippi's first and only brewery since Prohibition, brought along its unique Southern Pecan Nut Brown Ale, brewed with whole roasted pecans, which give the beer a rich, nutty flavor.
Boulder Beer Company president Jeff Brown brought along samples of his brewery's finest: Mojo IPA, Hazed and Infused Dry Hopped Ale, and Flashback India Brown Ale. Boulder Beer Company helped start the craft beer revolution in 1979, becoming the first licensed brewery in the United States since Prohibition.  Before Boulder Beer opened, there were only 42 breweries in the US; now there are about 1,500. "People are trying beers that have more flavor," Jeff Brown says. "Their palates have become more educated. They're buying local, moving away from the macro-breweries."
In addition to the brewers, a number of central Florida bars offered samples from their selection of specialty beers, among them DeLand's Abbey and McK's Tavern of Daytona Beach.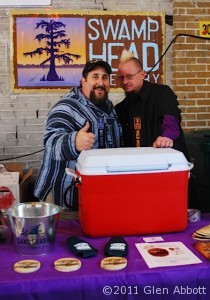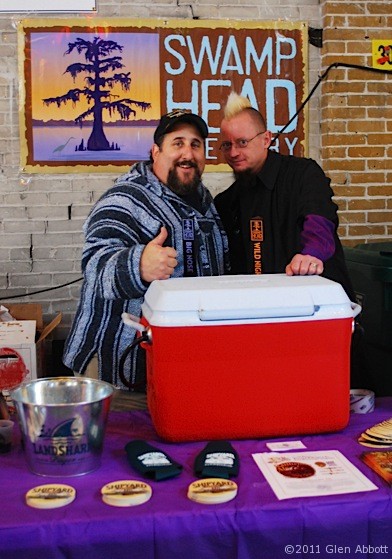 In only its second year, the DeLand Craft Beer Festival is a raging success. The event was a sellout — 600 tickets sold at $20 to $25 apiece, with proceeds going to Main Street DeLand, a non-profit organization dedicated to promoting the city's heritage and economic development.
Time to start planning for next year's event!
FOR MORE INFORMATION:
Blue Poing Brewing Company: http://bluepointbrewing.com
Lazy Magnolia Brewing Company: http://lazymagnolia.com
Boulder Beer Company: http://boulderbeer.com
Abbey DeLand: http://www.abbeydeland.com
Mainstreet DeLand Association: http://www.mainstreetdeland.org