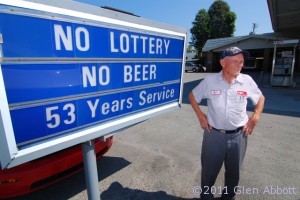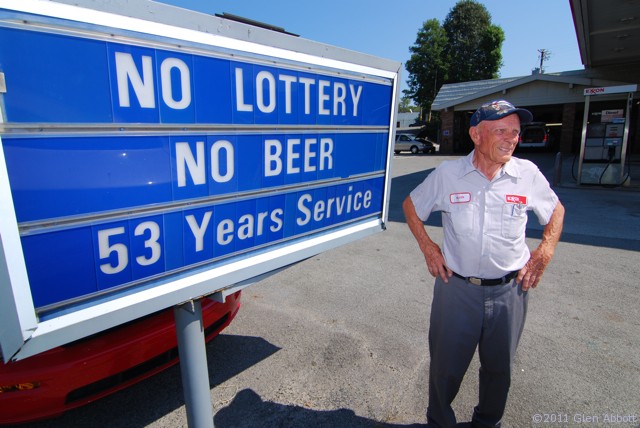 Knoxville, TN — Often the best part of travel is the people you meet. When I'm on the road, in addition to spectacular riding and great food, I'm always looking for interesting local characters. Sometimes they're not too hard to find.
I was drawn to Fountain City Exxon by a sign out front. A sign that advertised not what was for sale there, but what wasn't. "No Lottery. No Beer," announced the sign.
This looked promising.
I strolled inside and met Alvin Frye, the youthful-looking 87-year old proprietor. "I've been here 54 years," he told me. "I've never sold beer in my life, don't drink it either." And the lottery? "Money is the root of all evil, I'm convinced of that. I want to make it the right way, so i can go home and sleep at night with a clean conscience."
I was in Tennessee writing an article for Rider magazine on the White Lightning Trail, riding the backroads where Tennessee moonshiners tried to outrun revenue agents who wanted to arrest them for making and selling untaxed liquor. I found some great riding, some great food, and some real characters. I'd just met one more.
"I only drank one time in my life: World War II when I was in the navy. First and last time, 1943 I was on liberty in San Francisco. I got so sick, it woulda been better to die."
In this part of Tennessee, however, everyone who's been around awhile has been acquainted with a moonshiner or two, and Alvin is no exception. "Ed Harvey across the street used to sell moonshine and deliver it on his motorcycle. An old Indian. That thing sure was noisy," Alvin said.
Alvin even had an employee that was a former moonshiner. "A guy that worked for me hauled whiskey. He got out of that business after he got sent to the penitentiary. After he got out, he quit hauling whiskey and went to work for me as a mechanic."
Again, you never know who'll you meet on a road trip. Sometimes just a simple sign outside a business is all it takes to meet a fascinating person. I figure you've got nothing to lose, except for a few minutes out of your day, and invariably you've made a new friend, had a new experience, and have come away with a story to tell.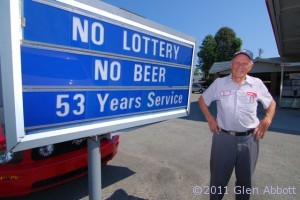 FOR MORE INFORMATION:
Fountain City Exxon
5306 Broadway
Knoxville, TN 37918
865-687-5191