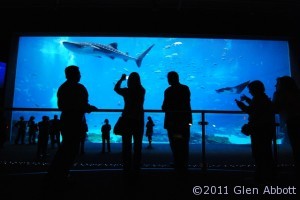 Atlanta, GA — It's not every day you can visit a 10-million  gallon aquarium.  In fact, this is the only place in the world you can do it. The Georgia Aquarium, at the edge of Atlanta's Olympic Centennial Park, houses tens of thousands of aquatic species, including whale sharks — the largest fish in the word — and the first and only manta rays in a U.S. aquarium. Not to mention a plethora of penguins, sea otters, beluga whales and soon, dolphins.  At 604,000 square feet, it's an impressive facility.  You view the sea life through huge acrylic windows, which are seventeen times stronger than glass, but most importantly, there's NO distortion.
The Georgia Aquarium opened 5 years ago, funded primarily by a 250-million dollar donation by the founder of The Home Depot and another $100 million from presenting sponsors. Coca-Cola donated the land, so the nonprofit aquarium opened completely debt-free.
If you're on a motorcycle trip through the state, it's a great stop. You also might want to visit the World of Coca-Cola next door, and CNN headquarters–which offers studio tours– is nearby. I came to Atlanta to attend TravelSouth Showcase, a tourism conference, where I met with tourism directors from 11 Southern states to get ideas and assistance for future motorcycle travel articles. Among the activities, attendees were offered a behind-the-scenes aquarium tour, something that can also be arranged (at additional cost) with a public tour. Among the aquarium's other special programs are a "Swim and Dive" program — called "Journey with Gentle Giants"– where you can swim with the whale sharks, manta rays and fish.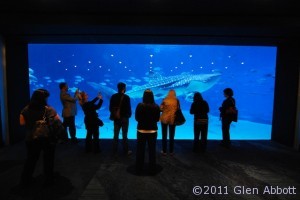 Behind the scenes, we walked through the pump and filtration room,  past the diagnostic and water quality lab, and the veterinary lab, which looks a lot like a hospital's operating room. We also got a sneak peek at the soon-to-be-opened dolphin attraction, a new wing of the facility with an 1800-seat theater that will offer a dolphin show with lighting, music and special effects, along with live actors and animal trainers.
My favorite  exhibit is called "Ocean Voyager," where the whale sharks and manta rays live. Walking through its 100-foot long acrylic tunnel you'll see the  impressive sea creatures swimming over and around you, and then you'll go into a huge room with a viewing window that's the largest  in the western hemisphere.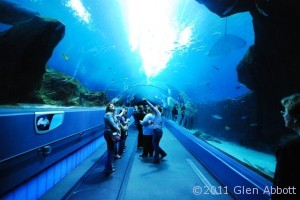 This aquarium really packs a  huge "wow" factor. "No one says learning has to be boring," Mackenzie Whalen of the aquarium's public relations staff told us. "We hope people are engaged and inspired here."
I definitely was!
FOR MORE INFORMATION:
Georgia Aquarium
225 Baker St. NW
Atlanta, GA 30313