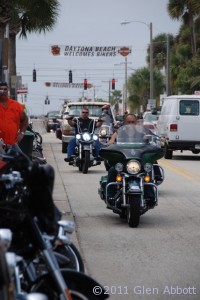 Daytona Beach, FL — Thousands of bikers rumbled into Daytona today (Friday 3/4/11) for the official start of Daytona Bike Week, the traditional kickoff of the spring motorcycle riding season. Bike Week actually lasts 10 days (through Sunday 3/13), and attracts upwards of half a million visitors to this seaside community. 2011 marks the rally's  70th anniversary — it originated in 1937 (the event was suspended during WWII due to fuel rationing) on the white sands of Daytona Beach, as an adjunct to the Daytona 200 motorcycle races. Over subsequent decades, the event grew into one of largest motorcycle rallies in the world.
There's something for everyone at Bike Week — demo rides and displays at the Speedway, vendors and food on Beach Street and Main Street, colorful bikes and characters everywhere you look.  You'll see every type of motorcycle imaginable — Harleys, "crotch rockets," scooters, customs — and all types of riders.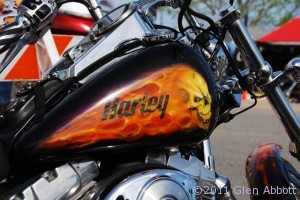 The rally's traditional epicenter revolves around Main Street — it's considered obligatory to make at least one pass down the street on your bike (known as the "Main Street Crawl"), to "see and be seen," as it were, a veritable fiesta of horsepower, leather and testosterone. The sidewalks are jammed with bikers and people-watchers and echo with the sounds of loud exhaust pipes competing with rock music blaring from the streetside bars.
In recent years, Bike Week-related events have spread throughout surrounding metropolitan areas; DeLand holds a bike rally on Saturday (http://www.delandbikerally.com/), and Orlando Harley Davidson and Seminole Harley-Davidson hold daily events as well.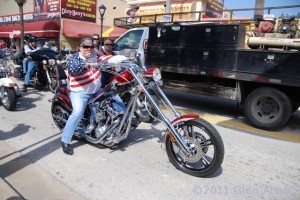 I'll be attending DeLand Bike Rally as well as events in Daytona throughout Bike Week; stay tuned for highlights!
FOR MORE INFORMATION:
Daytona Bike Week official website: http://www.officialbikeweek.com/