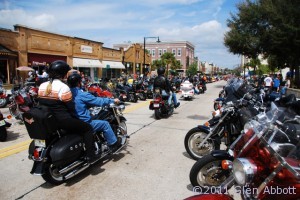 DeLand, FL — It's easy to be overwhelmed by the sheer volume — both physical and audible —  of Daytona Bike Week. Attracting upwards of half a million visitors, the 10-day springtime motorcycle rally generates more than $300 million for the local economy. The streets of Daytona — resplendent in a sea of denim and leather-clad bikers and their gleaming chrome machines — literally rumble to the rhythm of tens of thousands of motorcycle exhausts. All the sights, sounds and smells that go with a massive bike rally are right here.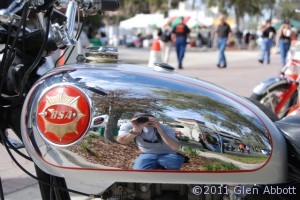 So it's not surprising that surrounding communities want their piece of the pie. The historic central Florida community of DeLand is a short 20 minute ride from Daytona, and holds its own 1-day rally during Bike Week. I may not be completely objective, as I live there, but I think it's a great one-day rally — similar to Daytona but on a much smaller scale.
Each year on the first Saturday of Bike Week, the town closes off several blocks of its main street to all traffic except motorcycles, which by mid-day line both sides and the middle of the street.  The rally offers everything its bigger cousin does — vendors, food, music, a bike show — but with a more intimate feel. Best of all, DeLand's historic downtown is lined with a surprising number of restaurants, cafés, galleries, and shops, making for a fun afternoon even if you don't ride a motorcycle.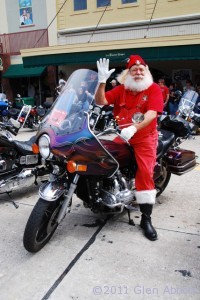 This year's rally — DeLand's seventh annual — took place yesterday, and attracted in excess of 70,000 visitors. All the chrome, leather and rumbling you'd find in Daytona, but with a more relaxed vibe.
I recommend making DeLand's rally part of your next Bike Week, but for now, enjoy the photos!
FOR MORE INFORMATION:
http://www.delandbikerally.com