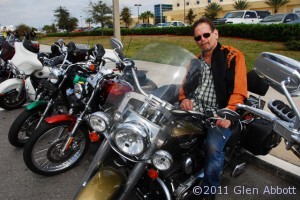 Daytona Beach, FL — Sometimes, just chatting with the person next to you can lead to an interesting story. I met Tony Wheeler during Bike Week on Beach Street, when I pulled my Road King into an open spot next to his Softail Deluxe.  Thousands of bikes lined both sides of the street; throngs of bikers strolled the sidewalks. Tony was putting a bag from Daytona H-D into his saddlebag, getting ready to ride to another location.  His orange license plate caught my eye.
"You ride here all the way here from Oregon?" I asked.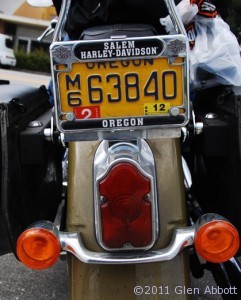 "Yes I did," he replied. "It's been my lifetime dream to come to Bike Week. I've always wanted to come, but I didn't want to fly or drive — I wanted to ride my bike."
So the 53-year old retired electrical lineman from McMinville, Oregon packed up his 2007 Harley-Davidson Softail Deluxe and rode 3,360 miles over 8 days to come to Daytona, braving loneliness and severe weather.  "At the Oregon/California border, there was 3 inches of snow and ice on the mountain passes. I had to wait till traffic melted the snow off the road enough to ride."
He'll spend all week in Daytona, with a side trip to Kennedy Space Center in Cape Canaveral, another location on his "bucket list."
What does he think of Bike Week so far? "It's incredible. It's worth all the loneliness, all the long hours on the road.  The memories of Bike Week will keep me going on the way home!"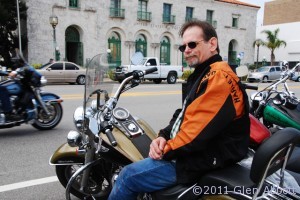 Tony Wheeler is just one of the estimated half a million people attending the big rally. It's a good bet that every one of them has a story — some interesting, some perhaps not so much. But you'll never know if you don't start a conversation.
As the tagline of a classic movie said: "There are eight million stories in the Naked City. This has been one of them."