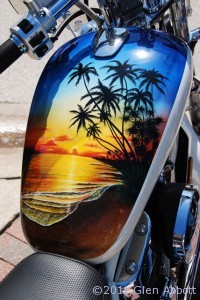 Daytona Beach, FL — Whether you ride a Honda or Harley, Victory or Valkyrie, Yamaha or Ural, you've probably done something to your machine to make it uniquely your own. Stock is merely a starting point — a blank canvas, if you will. Chrome tsotskes, leather fringe, and custom paint are all things bikers do to make their rides stand out. Even a personalized license plate can make a difference.
This morning, I walked around Main and Beach Streets in Daytona, shooting some photos of distinctive paint jobs and other geegaws. This is by no means an in-depth study; it's merely a sample of what you'll find walking around — part of what makes Bike Week Bike Week.
Along Main, one custom paint job in particular caught my eye — a tropical scene with sandy beach, blue waters and palm trees in a sunset silhouette.  That's what the Travelin' Gringo is all about, after all! Tima Ford of Independence, MO had artist Bob Bonds paint the custom scene on the tank of her '07 Suzuki Boulevard. "I can look at it and feel like I'm right there," she says. "I don't know exactly where it is, but I'll be there someday."
From the looks of that beach, I'd love to be there too.