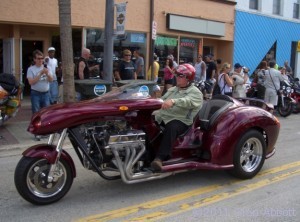 Daytona Beach, FL — An old beer commercial featured the tagline, "Why ask why?"
When it comes to mounting a V-8 engine in a motorcycle frame, I guess if you have to ask "Why?" you just wouldn't understand. "There's no substitute for horsepower" might be one answer. Or perhaps you just want to be noticed (gee, I don't think any of us bikers are guilty of that!).
In any case, an entire biker subculture is devoted to monster motors. Manufacturers, particularly Boss Hoss of Tennessee, have helped popularize these machines of ample girth. Love 'em or hate 'em, it's pretty impressive to see and hear one of these bikes idling next to you at a traffic light, shaking and popping like a dragster awaiting the green light at a race.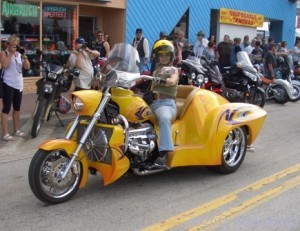 Every year during Daytona Bike Week, the organizers of Rat's Hole Bike Show put together what they call "The World's Largest V-8 Motorcycle Parade."  The event is a fundraiser for charity: entry fees and donations go to the Shriners Hospitals for Children.
This year's event was the most successful yet. Organizer Ted Smith says there were a record 127 V-8 motorcycles in the parade, which raised $1300 for the Shriners Hospitals.
Thanks to my cousin Bruce Abowitt for all the photos with this post — Bruce rode to Daytona from his home in Rhode Island — about 1300 miles — on his '06 Harley-Davidson ElectraGlide Ultra Classic for Bike Week.
Enjoy!