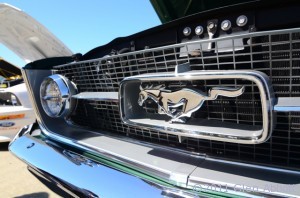 Polk City, FL — Take the world's largest private collection of vintage aircraft, combine it with the largest one-day Mustang car show on the East Coast, and you've got the "Mustangs & Mustangs: Legends Havin' Fun" show.
For the past 14 years, Fantasy of Flight in Polk City, FL has hosted the event, featuring rare, restored P-51 Mustang fighter airplanes along with the automobiles which were named for them. This year's event featured over 400 automotive entries — old, new, cool, classic, common and rare, along with examples of the legendary P-51 World War II-era fighter planes, some of which performed live aerial demonstrations.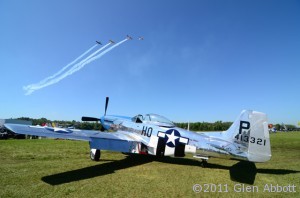 Fantasy of Flight is an aviation attraction in Polk City (mid-way between Tampa and Orlando, FL) that features over 40 rare and vintage aircraft, and offers daily flying demonstrations — weather permitting — of some of these vintage machines.
Saturday was a perfect day for a motorcycle ride to Polk City. Throngs of automotive and aviation enthusiasts packed the event, which was kicked off by an aerial demonstration of a rare P-51 Mustang, piloted by Fantasy of Flight owner Kermit Weeks.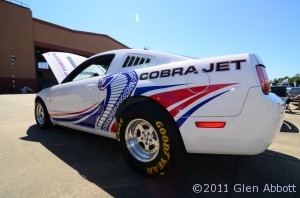 The selection of Mustang automobiles on display was quite varied: Joe Curley of Bradenton, FL displayed his rare Ford Racing Cobra Jet, a 2009 model — #27 out of 50 made — purpose-built for the 2009 Winternationals Drag races, outfitted with racing slicks and a 5.4 liter engine that puts out over 1,000 horsepower. Joe told me that a similar one sold at a Barrett-Jackson auction last year for $475,000, although he wouldn't say what he paid for his. "I like coming to this show," Joe said. "Fifty percent of owning one of these cars is bragging about it, and talking with others with the same interest. This is a knowledgeable crowd."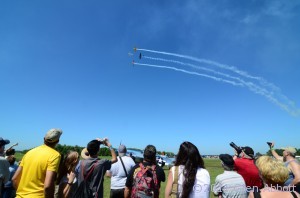 Thousands of spectators strolled among the hundreds of cars and the historic airplanes on display, chatting with their owners and enjoying the flying displays. "We've got great weather, and a great crowd here today," owner Kermit Meeks said.
Can't argue with that!
FOR MORE INFORMATION:
Fantasy of Flight
1400 Broadway Blvd. S.E.
Polk City, FL. 33868
(863)984-3500