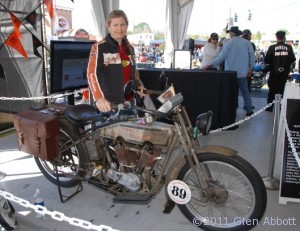 Daytona Beach, FL — Riding a motorcycle coast-to-coast is challenging enough: long hours on the road, weather, traffic, boredom. Now imagine doing it on a 95-year old motorcycle, at an average speed of 35 miles an hour!
Last September, 44 riders did just that, roaring out of Kitty Hawk, NC en route to Santa Monica, CA — 3300 miles over two weeks. All rode pre-1916 machines. Their route followed scenic and historic highways — route 66, for example — avoiding the interstates as much as possible. The race/endurance run was called the Motorcycle Cannonball, for Erwin "Cannonball" Baker, who, in 1914, rode coast-to-coast in 11 days on an Indian motorcycle, and set 143 driving records during his career.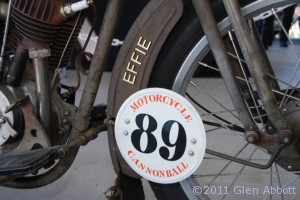 Thirty-eight hardy riders completed the 2010 run, among them two women: Katrin Boehner of Germany, and Cris Sommer-Simmons of the US.
I met Cris at Harley-Davidson's HOG tent on Beach Street during Daytona Bike Week, where she signed autographs and displayed "Effie," the beautiful 1915 Harley on which she rode the Cannonball. The bike is named for Effie Hotchkiss, the first woman to ride a motorcycle across the US: in 1915, Hotchkiss rode a Harley of the same year and model from New York to San Francisco, accompanied by Avis, her mother, riding in the sidecar!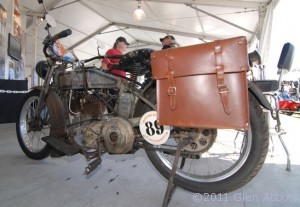 Cris is a longtime motorcyclist, freelance writer, and author, and has written "The American Motorcycle Girls: 1900 to 1950." "When I wrote the book, I had no idea I'd be riding in the Cannonball," she told me. "I'd been assembling historic photos for it for 3 years." Doing the run "felt like I was living my book…in a black and white world. I love the era and I love the early motorcycles."
Riding cross-country on the nation's backroads was an experience like no other: "People were coming out in the small towns, thanking us. It was incredible. People usually see these [motorcycles] in museums. To see them actually running just blew their minds!"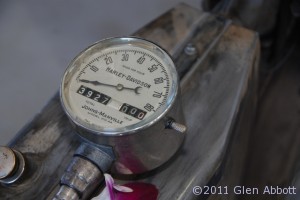 You'll be able to read Cris Sommer-Simmons' account of the experience in her new book, set for publication this fall; tentatively titled "The American Motorcycle Girl's Cannonball Diaries."
Summing up the Cannonball, "It was amazing; hard; grueling; exhausting. I just wanted to finish and I came in 20th, which is more than I ever hoped for," she said. "Finishing for me was winning."
An amazing woman, and an amazing motorcycle. I know you'll join me in wishing her the best!
FOR MORE INFORMATION:
http://motorcyclecannonball.com