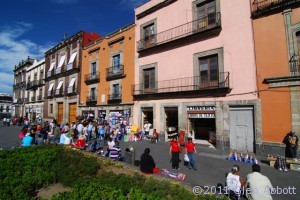 Mexico City, Mexico — "Es un problema. Un problema grande," the hard-eyed, grubby little man announced sharply, pointing to my camera. The man held a walkie-talkie, but he hardly looked like policia, or anyone official for that matter.
I immediately got it that he didn't want me taking pictures in his corner of Mexico City's famous Zócalo, although I didn't immediately get why. I shrugged my shoulders and started to walk away. "Puta Madre," he called after me ("Your mom's a whore" would be probably the least insulting translation of the phrase). Rather than returning to engage in pointless philosophical banter ("Is not." "Is too." "Is not…" and so on), I chose to keep walking, more pissed off than afraid. It was broad daylight, after all, and the Zócalo teemed with tourists and locals.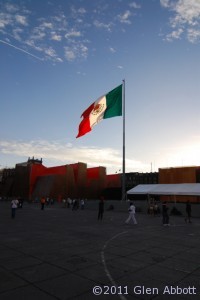 The Zócalo is one of the world's largest public squares, bordered by a massive cathedral (seat of Mexico's Roman Catholic Archdiocese), the Palacio Nacional, Federal District buildings, and the site of the Templo Mayor from Aztec times. At the Zócalo's center, an enormous Mexican flag waves atop a flagpole. Naturally, the Zócalo is a UNESCO World Heritage Site, a must-see on any Mexico City itinerary.
And as you'll find nearly everywhere throughout the country, vendors line the edges of the plaza, selling food, drinks, clothing and chucherías. And amongst the vendors, apparently lay the problem.
My wife and I had flown into Mexico City — she to attend an anthropology conference in the city of Puebla, about 2 hours away, during which I'd arranged a motorcycle rental on which I would go exploring solo throughout Puebla state. We stayed in Mexico City for a couple of days before taking a 2-hour bus ride via Estrella Roja express (better than Greyhound in the US — it even had wireless internet) to Puebla.
We stayed at a Hampton Inn just a few blocks from the Zócalo (incidentally, an incredibly nice hotel – I highly recommend it if you come here, and no, they didn't pay me to say this). We planned on walking around the Zócalo and throughout the heart of Mexico City, visiting the Museo Nacional de Antropología (National Anthropology Museum, known as one of the world's finest), La Zona Rosa (a famous neighborhood, shopping and entertainment district), walking several miles throughout the city over a couple of days.
Back to my amigo in the Zócalo: it wasn't until later in the afternoon of my inhospitable encounter that my wife figured out what had been going on. She noticed a pair of police officers patrolling an adjacent street. As the officers approached, some of the street vendors began immediately rolling up their blankets and packing their merchandise, accompanied by frantic chatter over the walkie-talkies they all carried. Now it all made sense — these vendors sold counterfeit merchandise (you know, the Fendi bags and fake Rolexes), and the gentleman I'd encountered earlier was one of their lookouts — they were trying to avoid a police raid and confiscation of their dubious merchandise!
Aside from that one unpleasant encounter, the rest of our Mexico trip was incredible — I rode a Kawasaki dual-sport motorcycle over dirt roads to the volcanoes of Puebla, one of the most fun motorcycle trips ever (click here to read the story of that ride), which I also wrote about for the September 2010 issue of RoadBike magazine, getting to explore a part of the country I'd never visited before.
Shady vendors or not, I'll be back!