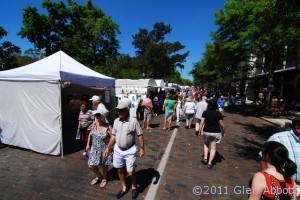 Winter Park, FL — If you're a cultured motorcyclist in Central Florida — and even if you're not cultured, nor a motorcyclist for that matter — it's worth taking a ride to downtown Winter Park this weekend. After the organized chaos and noise of last week's 10-day Bike Week,  this is a great place to stroll, people-watch, take in some artwork, and relax. 2011 marks the 52nd annual edition of the event, one of the nation's oldest and largest outdoor art festivals.  The festival attracts over 350,000 visitors during its three-day run. This year 225 artists were selected to participate (out of 1,200 applicants), competing for 62 awards in 14 categories, including a $10,000 prize for "Best in Show."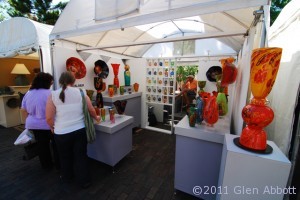 In addition to some incredible artwork, there are food vendors, a beer garden and entertainment, and downtown Winter Park offers a multitude of sidewalk cafés, bars, and restaurants.  Show hours are 9:00 am – 6:00 pm Friday and Saturday (3/18 and 3/19)  and 9:00 am – 5:00 pm Sunday (3/20).
So even if your preferred artwork tends more toward chrome and leather than oil and canvas, Winter Park's Sidewalk Art Festival is a great opportunity to relax, unwind and maybe pick up a little culture along the way!
FOR MORE INFORMATION: