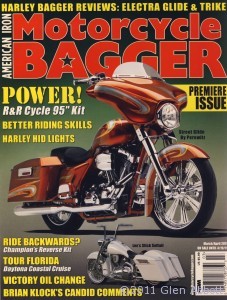 Ormond Beach, FL — In this era of declining print media, it's always exciting to see the launch a new magazine — particularly one for which I write!
American Iron has been a longtime client — I wrote my first "Tour" article for the magazine in 2003. Tam Communications also publishes RoadBike (I've written "International Escape" and "American Adventure" stories for them). Now the company has launched Motorcycle Bagger as a bi-monthly, starting with the March/April 2011 issue — to coincide with Daytona Bike Week. My article, "Daytona Coastal Cruising," starts on page 54 of the issue.
So what better way to officially launch the magazine than a launch party at Bike Week for the readers? Friday, the editors of all three Tam publications gathered at Broken Spoke Saloon for the party and a ride-in motorcycle show. "These events give us a chance to meet our readers," American Iron editor Chris Maida explained. "It's one of the fun parts of our job."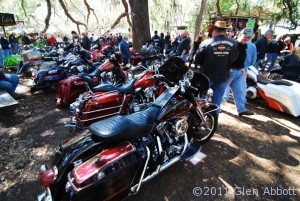 The ride-in show also gives the editors a chance to scout potential feature bikes for the magazines, which feature readers' rides, not just outrageous customs.  "I like to see what the average guy rides," Bagger editor Dain Gingerelli told me.
From all indications, the launch party was a success — editors say reader response to the new magazine has been tremendous, and it appears to have a promising future.
In a digital age, it's good to see there's still room for print media!