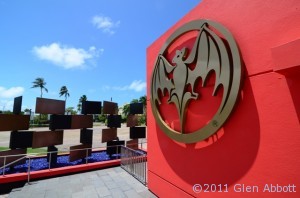 San Juan, Puerto Rico — When you're talking 100,000 gallons of rum distilled every day, 365 days a year, you're talking a LOT of rum.  20 million cases a year worth. That's a lot of Mojitos.
From its humble beginnings in 1862 in Santiago de Cuba, Bacardi is now the largest distiller of premium rum in the world. Most of that comes from its facility near San Juan, Puerto Rico (85% of production), but Bacardi also runs a distillery in Mexico City. Interestingly, the rum is actually bottled in Jacksonville, Florida — shipped there by boat in stainless steel tanks.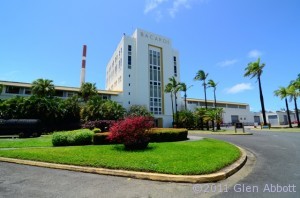 So here I am, in San Juan, my wife attending an anthropology conference, and I've got a day to kill. I've already toured Old San Juan's beautiful historic center with its stone fortress dating from the 1500s, had some great Puerto Rican food (fried pork chunks, mofongo, and of course, a Mojito), so it's time for something different. I head for Casa Bacardi — the Bacardi Rum factory — on the outskirts of town.
Casa Bacardi's free tour includes a couple of drinks — I recommend the Mojitos. Of course, I always recommend the Mojitos — rum, lime juice, club soda, sugar, spearmint leaves and did I mention rum? It's the perfect tropical drink. I may be a beer guy, but, hey, if you're in the tropics, you go with the flow.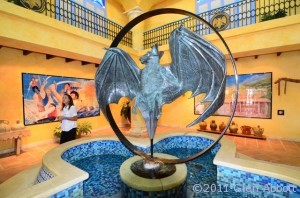 Visitors gather in a big, open pavillion with a bar at its center, waiting to be called for the tour –which seemed to run every 15 minutes or so when I was there. When you're called, you enter a motorized tram and are driven a short distance to the visitor's center, where you'll spend the next hour or so. Your tour guide will lead you through the exhibits, explaining the history of Bacardi while walking through rooms containing replicas of the original Bacardi offices and stills. You'll also watch a short movie; lastly you'll be brought to a room that is a replica of a classic bar, where the bartender will demonstrate the proper techniques for mixing a Cuba Libre (Bacardi and Coke), Daquiri, and of course, a Mojito.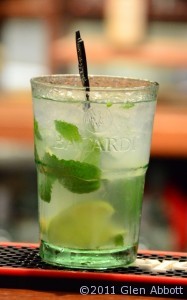 Then you'll be transported back to where you started (where, first, naturally you're directed through the gift shop), and you're free to use your drink coupons to enjoy a variety of Bacardi-based beverages. The Mojitos were particularly strong the day I visited — as Bacardi says, "Take your time and enjoy responsibly!"
I did.
FOR MORE INFORMATION:
Casa BACARDI Visitor Center
Cantaño, Puerto Rico
Tours
Monday-Saturday
from 8:30 AM to 5:30 PM
(Last tour at 4:15 PM)
Sunday from 10:00 AM – 5:00 PM
(Last tour at 3:45 PM