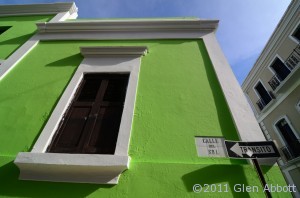 San Juan, Puerto Rico — Viejo San Juan truly vibrates with the pulse of the Caribbean. Pedestrians and traffic fill the streets and sidewalks at almost all hours. Music and the smells of food waft through the air. Spanish Colonial homes painted in vibrant colors, narrow cobblestone streets, shops, cafés, bars, restaurants, people, traffic — overwhelming and strikingly beautiful at the same time, a feast for all the senses.
The 7-square block Old City on the edge of San Juan Harbor was settled in 1521, the second oldest European-founded city in the Americas.  Many of Old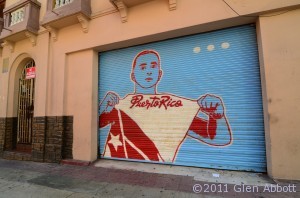 San Juan's narrow streets are paved with adoquines, blue-glazed brick brought over on Spanish galleons as ballast. Walls and stone fortresses protected the city from invaders: San Felipe del Morro was completed in 1589, and Castillo de San Cristóbal was completed in 1771.
You'll find an endless variety of food and drink in Old San Juan. A couple places I recommend: Café Puerto Rico has great Mojitos and food — I had chicken with rice (Arroz con Pollo) on one visit, and fried pork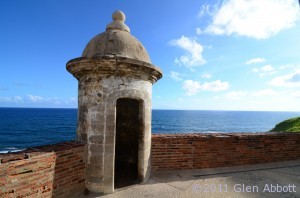 chunks with rice and onions on another. And at Restaurante Raíces, I had Mofongo (mashed green plantains) stuffed with Churrasco steak. To drink, a tamarind frappe (kind of like a Slurpee, but with tamarind fruit) with rum. Incredible!
FOR MORE INFORMATION: