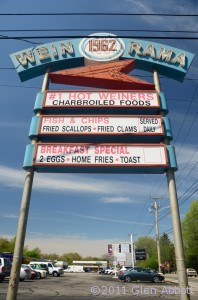 Cranston, RI — When you grow up in Rhode Island, you take certain things for granted. Drinking fountains are called "bubblers." Milkshakes are called "cabinets." Submarine sandwiches are "grinders." (also, no one ever pronounces the "r"s at the ends of words — so "grinders" sounds more like "grinduhz;" "pictures" sounds like "pitchuhz," etc. An interesting corollary to this is that Rhode Islanders tend to put "r"s in words where they normally don't exist, thus "China" becomes "Chiner;" "India" becomes "Indier," and so on.
One of the cultural rituals of living here involves going out for Hot Weiners (pronounced "weinuhz," of course). Wieners are a delicacy you won't find anyplace else. Basically a hot dog — albeit a special kind of hot dog — on a steamed bun, slathered in meat sauce, diced onions, and celery salt. Slightly smaller than regular dogs, they're made with pork, beef and veal. "You can find hot dogs in the market [Rhode Island-ese for a grocery store, "market" is pronounced "mock-et"] with pork or beef, but you never find 'em with veal," George Sotirakos of Wein-O-Rama says. Except here, of course.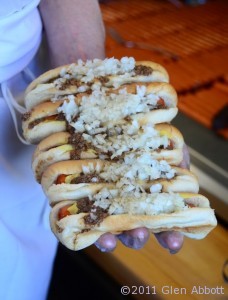 When weenie joints first opened in RI in the mid-twentieth century, operators referred to them as "New York System," perhaps to make the recipe sound more exotic, even though there was no such thing in New York; the recipe was unique to the state.
Growing up in RI, it never seemed out of the ordinary that one of the most popular joints was called "Wein-O-Rama." Started in 1962 by Greek immigrant Michael Sotirakos, the restaurant is now run by his sons George and Ernie. You can't help noticing George when you enter; at 6'8″ tall, he claims to be the tallest short order cook in Rhode Island. It's a family business: Uncle Nick helps out behind the grill — Nick has worked here, off and on, for 30 years, as has "Mean Jean," who works the cash register. "She lives up to her reputation," George says. "Let's just leave it at that."
A full menu, including breakfast, is available, but Hot Weiners are Wein-O-Rama's raison d'être. "I figure in the years we've been here, we've probably sold about 10 million, probably," according to George. On an average Saturday, their busiest day, they sell 600 to 700 of the tasty tubular treats.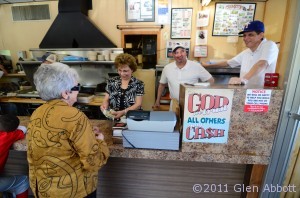 In traditional Rhode Island wiener culture, the grill person prepares 'em by lining the buns up along his arm, beginning at the wrist, and spooning on the mustard, meat sauce, and onions one after the other. "In the old days, right up the arm, at least 20," according to George.  They still line 'em up today, but just a few at a time, wearing the required food preparation gloves.
Everything about Wein-O-Rama shouts "old school," from its classic lunch counter stools and vintage signto its menu , a vestige of an age when no one worried about fat, cholesterol, or calories.  "You don't come here if you're health conscious," George will tell you. "If you're on a diet, you just don't come here."
If you're looking for some of the best Hot Weiners in the state, however, you most definitely WILL come here.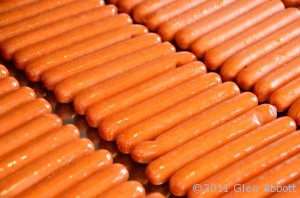 FOR MORE INFORMATION:
Wein-O-Rama
1009 Oaklawn Ave.
Cranston, RI 02920
401-943-4990
Hours: Monday through Saturday 7:00 am – 4:00 pm, closed Sundays