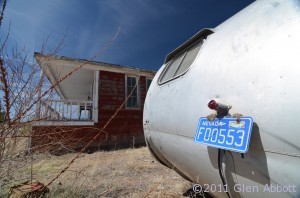 [Goldfield, NV] — "Here today, gone tomorrow," pretty much sums up the town of Goldfield, Nevada. From its first gold discovery and the city's founding in 1902 , the city grew explosively to become Nevada's largest by 1906, with over 20,000 residents, five banks, three newspapers, a hotel billed as the finest between Chicago and San Francisco, and countless saloons — the largest of which employed 80 bartenders.
Today, not so much. "We've got 2.5 million acres and 1,020 people left in the entire county," David Ashe, owner of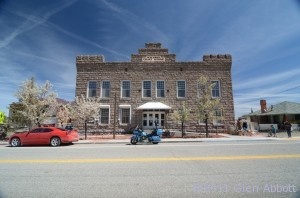 Barbarrossa & Bear Vintage Wares & Classic Motorcycle shop explained to me. Although the town was "the last and one of the biggest gold strikes in the U.S." according to Ashe, the gold ore quickly played out. A flash flood in the teens and a major fire in the 1920s helped hasten the city's demise.
Although a shadow of its former self, Goldfield is hardly a ghost town. People still live and work here, albeit not that many. On a ride through Nevada earlier this year, I parked on the street outside the courthouse and strolled the main street, admiring the early twentieth century stone buildings and imagining the city as it once was.
FOR MORE INFORMATION:
http://goldfield.travelnevada.com/