[New Orleans, LA] — In my newly-adopted hometown of New Orleans, it seems you can attend a different festival every weekend.  From Jazz to Jambalaya; you name it, most likely there's a festival dedicated to it.
So naturally, I'd be remiss in my duties as the Travelin' Gringo if I didn't attend the New Orleans Seafood Festival. This weekend's three-day event (9/9 through 9/11) is the fifth annual celebration of Louisiana seafood and a fundraiser for the Louisiana Hospitality Foundation. Admission is free.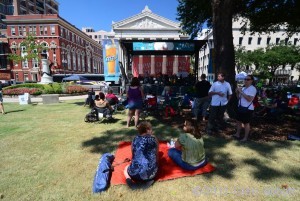 "This is gonna be one of the best we've ever had," Ewell Smith, Executive Director of the Louisiana Seafood Promotion and Marketing Board (the event's title sponsor) told me on Saturday. "The weather is unbelievable, and it's shaping up to be a great weekend."
As one who never misses an opportunity to sample the ocean's bounty — particularly Gulf oysters — I'd been looking forward to this, and I wasn't disappointed.  In Lafayette Square, near the French Quarter, about 20 vendors offered up their finest seafood creations, everything from chargrilled oysters to shrimp remoulade at prices of between $4 and $8 per dish.
Clouds of smoke drew me to grilling oysters at Drago's Seafood Restaurant's booth. For 8 bucks, I got a half-dozen charbroiled oysters — freshly-shucked, grilled, coated with garlic butter, and sprinkled with parmesan and romano cheeses — believe me, as delicious as it sounds.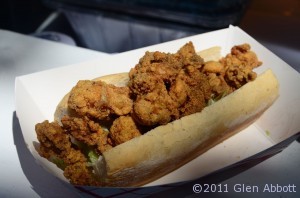 Next up, an oyster po-boy from Acme Oyster House. Also 8 bucks; a bonanza of delicious fried oysters, shredded lettuce and tomato on a fresh french roll. Splash on a few drops of spicy Tabasco sauce and it's heaven on a bun!
If fresh Louisiana seafood isn't enough, there's plenty of live music: while I was there, Javier Gutierrez & Viváz, one of about a dozen musical acts, belted out a lively version of "Guantanamera" that had the crowd dancing.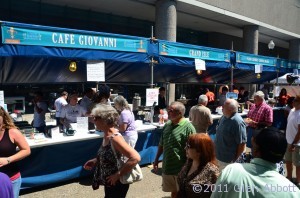 To top the day off, I purchased a strawberry snowball (a New Orleans staple: shaved ice drenched with flavored syrup — the perfect treat for a summery day), and strolled through the arts and crafts vendor area.
"We get visitors from all over the country and the world," Ewell Smith of the Seafood Promotion and Marketing Board commented. "It's a chance for us to showcase Louisiana seafood. People come here and realize our seafood is fine and hopefully they'll return home and spread that message."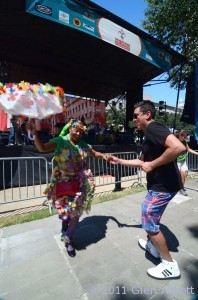 The festival continues Sunday (9/11) through 5:30 pm, so there's still time to hop on your bike if you're a Nawlins local and head on over to Lafayette Square — 544 St. Charles Ave, N.O.
FOR MORE INFORMATION:
New Orleans Seafood Festival: http://www.neworleansseafoodfestival.com/
Louisiana Hospitality Foundation: http://www.louisianahospitalityfoundation.org
Drago's Seafood Restaurant: http://www.dragosrestaurant.com/
Acme Oyster House: http://www.acmeoyster.com/