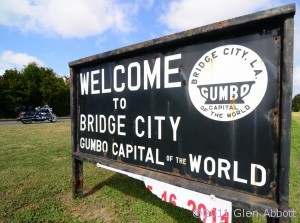 [Bridge City, LA] — Over the river and through the woods, to the Bridge City Gumbo Festival we go. Technically it's not really through the woods; along the levee would be a tad more accurate. But it is over the river. Just across the Mississippi from New Orleans over the Huey P. Long Bridge, the little town of Bridge City calls itself "The Gumbo Capital of the World."
What exactly is gumbo? I hear you asking. I'll let the all-knowing, all-seeing online reference Wikipedia provide the explanation:
"Gumbo is a stew or soup that originated in southern Louisiana during the 18th century. It consists primarily of a strongly-flavored stock, meat or shellfish, a thickener, and the vegetable holy trinity of celery, bell peppers, and onions." And it's served over rice, I might add.
For 39 years, the Holy Guardian Angels Mission/Our Lady of Prompt Succor Church has held its annual festival in Bridge City, which received its designation as the "Gumbo Capital of the World" via proclamation from Louisiana's governor in 1973. It's a church fund-raiser with all the prerequisites for a successful festival: music, activities, vendors, a carnival midway with rides and games, and last but not least, gumbo. Gallons and gallons of delicious gumbo. Over 2,000 gallons worth, organizers say. And that's not all: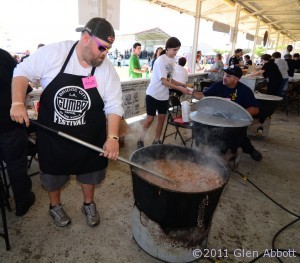 "If you come here, you find jambalaya, chicken gumbo, seafood gumbo, seafood fried, funnel cakes, hamburgers, hot dogs, red beans and rice, and pasta," festival chairperson Gary Girard told me. "[You'll find] just about anything, and it's all done by people from the church. No caterers, all people from the church with home-grown recipes."
By the time you read this, the 3-day festival will have already ended, but I sampled a bowl of seafood gumbo, so you'll just have to live vicariously through my gluttonous gumbo gorging. Just imagine that tasty roux (brown soup base), with Louisiana shrimp, crab, and seasonings. As simple as that, yet so delicious. Chairperson (and town fire chief) Gary Girard summed it up nicely: "The best gumbo is here, because we use a great roux and a lot of love goes into our gumbo."
FOR MORE INFORMATION:
Bridge City's World Famous Gumbo Festival: http://hgaparish.org/gumbofestival