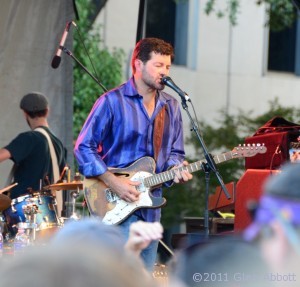 [New Orleans, LA] — Smokin' hot blues music and smoked, barbecued meats — an unbeatable combination. Throw in an Abita beer, and it's practically more pleasure than the average person can handle. Thousands did just that, however, at this weekend's Crescent City Blues and BBQ Festival. Sponsored by the New Orleans Jazz & Heritage Festival and Foundation, the annual celebration of the blues is held in Lafayette Park and admission is free.
This year's event played out October 14th through 16th.  I arrived just in time Saturday afternoon to hear Louisiana blues musician Tab Benoit thoroughly rock the outdoor house. Actually, he more than rocked the house, he burnt it to a cinder, figuratively speaking. (Coincidentally, I interviewed Tab last week at the Voice of the Wetlands festival, click here to read that post)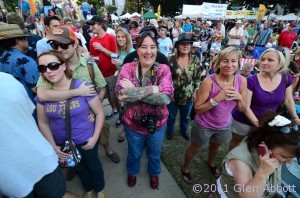 In addition to a full lineup of blues and soul entertainment on two stages throughout the 3-day festival, barbecue and food vendors offered a smoky taste of N'Awlins, and artists and craftspeople offered their wares. It may have been "too much fun for one person," but I sure gave it my best shot!
FOR MORE INFORMATION:
New Orleans Jazz & Heritage Festival and Foundation: http://www.jazzandheritage.org
Crescent City Blues and BBQ Festival: http://www.jazzandheritage.org/blues-fest