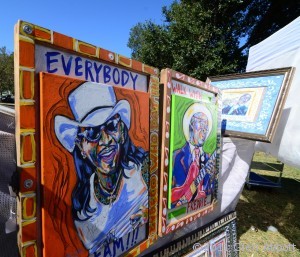 [New Orleans, LA] — It's not the Fourth of July, and I didn't see a man selling ice cream, but I'm pretty sure there were people dancing and people laughing (OK, go ahead and sing the Chicago song to yourself now; I know you want to).
On a perfect fall day in Louisiana, I saddled up the Harley and headed to Palmer Park (Uptown, on S. Carrollton at S. Claiborne). Sixty degrees, sunny, perfect riding weather. The last Saturday of each month, the Arts Council of New Orleans holds an outdoor arts market. Art, music, and food — nearly all the prerequisites for an enjoyable and relaxing day (well, there wasn't any beer, but let's not quibble here).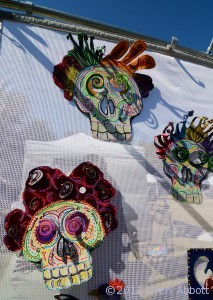 From the council's website:
The Arts Market features handmade, affordable art from local and regional artists and artisans. Styles of art include Painting, Photography, Ceramics, Glass, Jewelry, Wood, and Printmaking, plus handmade clothing, soap, candles, and other delights. Between 50 and 100 artists display and sell their wares each month.
It is the mission of the Arts Council to support and to expand the opportunities for diverse artistic expression and to bring the community together in celebration of our rich multi-cultural heritage. We believe this centrally located, accessible Arts Market featuring visual and performing arts will not only enhance our community, but also provide needed economic development to the artists of New Orleans.
The Arts Council says there were over 150 artists at this weekend's event. In November and December, the market runs two days (click below for schedule). Definitely worth checking out if you're in the area.
Can you dig it? Yes, I can. And I've been waiting such a long time.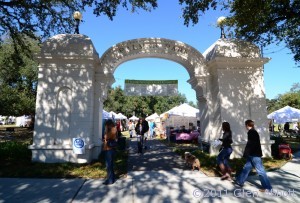 FOR MORE INFORMATION:
Info and schedule of upcoming markets: CLICK HERE
Arts Council of New Orleans homepage: www.artscouncilofneworleans.org