[New Orleans, LA] — I love the smell of fresh beer in the morning…and afternoon…and evening, for that matter. It smells like…victory! And you won't get it much fresher than right from the tap at its brewery of origin. Which brings me to what I consider New Orleans' best free happy hour, although Kirk Coco, the president of NOLA Brewing, might take exception to calling his brewery tour a happy hour. "It's a good way to start off a Friday afternoon of enjoyable beer drinking," is how Coco describes it.
Every Friday at 2:00 pm, NOLA Brewing throws open its doors and its taps to the public, for a guided tour and samples of its delicious brews. It's a bit like Disneyland for beer lovers, albeit without all the annoying screaming kids – although sometimes you may find screaming adults. "We get about 100 people on Fridays," Coco says. "And it can get a little rowdy in here, which is fun, too."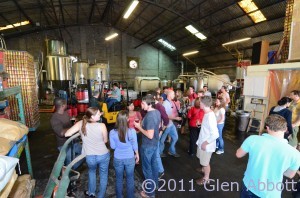 The brewery is headquartered in a cavernous, brick-red painted steel warehouse in the city's Irish Channel neighborhood. And the acoustics do make it a little difficult to hear the tour guide over the din of brewery operations and the cheery crowd.
NOLA produces four flagship brews – NOLA Blonde Ale, NOLA Brown Ale, Hopitoulas IPA, and 7th Street Wheat. It also brews four seasonals – Irish Channel Stout in winter, Flambeau Red in spring, Hurricane Saison in summer, and Smoky Mary (brewed with lightly-smoked malt to impart a subtle smoked flavor) in fall. Most beer lovers will find something to like, each with its own distinctive New Orleans twist. "We're brewing beers of complexity and taste… that can be paired with those wonderful foods we have in New Orleans," Coco says.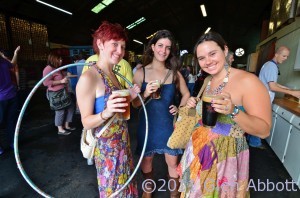 So if you're looking to get your Friday beer on, round up your bestest (non-beer loving) designated driver, and head to NOLA Brewing, Fridays at 2:00 pm. You'll get an in-depth look at a working brewery, and ample opportunity to sample NOLA's spectacularly fresh, delicious brews.
FOR MORE INFORMATION:
NOLA Brewing Co.
3001 Tchoupitoulas St.
New Orleans, LA 70130
Phone: 504-613-7727
Public Tours: Fridays 2:00 pm (free, no reservations required)