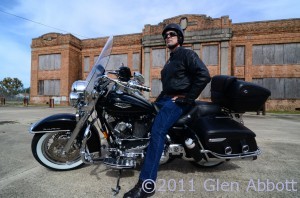 I'm not generally a big fan of retrospectives: e.g.  "2011, the year in Review." The year's done, over, it's time to get on with your life. And I've worked in journalism long enough to know that year-end retrospectives are usually a "prepared in advance" way to fill space (or airtime) at the end of the year when writers/broadcasters are taking a break.
That said, here's my 2011 Year in Review. Not prepared in advance, mind you. I have no editorial calendar here at Travelin' Gringo enterprises. Usually the way it works, I think of a post, I write it. Maybe better advance planning should be one of my 2012 resolutions, but I digress.
So as I sat drinking coffee this morning, the last day of 2011, I got to thinking. "Self," I says to myself, "You've taken some relatively cool motorcycle trips this year and gotten some decent photos. It wouldn't hurt to recycle a few of 'em by doing a Year-In-Review thing." My readership — pageviews — has been increasing little by little, which is driven in part by posting, and promoting, more fresh content (it's also helped by being able to promote this blog at the end of magazine articles I do, and through another blog I recently started writing for — www.nolaVie.com — about life and culture in New Orleans).
So with that wordy setup, here's The Travelin' Gringo's 2011 Year-End Extravaganza:
In January, I did "Back to the Bayou" for HOG magazine. I flew into New Orleans (from my home at the time, Orlando), picked up a Harley Electra Glide Ultra Limited, and spent several days riding the back-country and bayous of Louisiana. It was a fun trip, I really liked the bike (its red, two-tone color scheme was stunning and photographed well), and I got to eat lots of good Cajun food, including my first Boudin. One memorable part of the trip was returning to New Orleans from Lake Charles on the last day after a cold front had rolled through: temperature was in the low-20s with wind chills in the teens. I shiver just thinking of it.
In April, I did "Ghosts of the Open Road; Riding the Loneliest Highways in America" for HOG. I rode through Death Valley, CA, then on a circuit through Nevada that included ghost towns, Highway 50 across the middle of the state (known as the "Loneliest Road in America"), and Area 51, stopping at the Little A'Le'Inn in Rachel, NV. I rode a beautiful, blue Road Glide Ultra, which also photographed well. By the time I returned the bike to Harley's press fleet facility in LA, I'd added about 2,200 miles to its odometer.
May brought a Florida panhandle tour, more specifically to Franklin County (Apalachicola and Carrabelle, what's known sometimes as the "Forgotten Coast." I'd been invited on a press trip by Geiger PR, so I rode up from Orlando on my Road King, spent a few days there hosted by Geiger, and wrote an article which will appear in the April 2012 issue of Motorcycle Bagger magazine. What's memorable about that ride — in addition to the beautiful "Forgotten Coast" — are the plentiful supplies of fresh seafood, particularly oysters, that they fed us. Geiger's client — Franklin County — wanted to get the message out that Gulf seafood is fresh, safe, and abundant. I think they succeeded.
Also in May, I flew to Maine, picked up an Electra Glide Limited and rode the state's entire seacoast. I called the HOG magazine article "Lighthouses, Lobster, and Living to Ride." Maine is particularly memorable for its lobster rolls and beautiful coastal scenery, I got lots of photos, many of which I was able to use in several Maine blog posts after the article came out.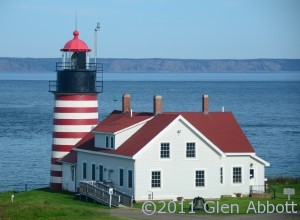 June brought a tour of Vancouver, Canada for HOG. The article is to be published sometime mid-2012. I toured the "Coast-Mountain Circle Route" on a Road Glide Ultra, an area that includes the Frasier Valley, and rode part of the country's 1800s "Gold Rush Trail," as well as Whistler and other spectacularly scenic areas.
In July, I rode from Orlando to Tennessee and North Carolina on my Road King, riding some of the incredible parkways, skyways, and gaps in those states. The ride included the "Tail of the Dragon," the Cherohala Skway, and Cumberland Gap, and will also appear in HOG sometime next year.
August was pretty much consumed with moving to New Orleans with my wife for her new job. Moving is never fun, but we love New Orleans and hope to be able to stay awhile (she's teaching at Tulane as a "Visiting Professor," on a one-year contract, so the future is kind of up in the air. We're keeping our fingers crossed).
In November I did a relatively short ride along the Mississippi River here in Louisiana, for a story tentatively titled "Rollin' on the River" for HOG magazine (I haven't written it yet, but I'm guessing it'll run in late summer or fall). I rode the levees and toured some historic sugar plantations, for a look at Mississippi River life as it used to be.
Throughout the year, I also had stories in American Iron, RoadBike, and Motorcycle Bagger — most of which I'd written in late 2010, and included rides through the Ocala National Forest and St. Augustine, FL.
That's pretty much the year in Travelin' Gringo. I'm starting to plan rides and tours for 2012. I would love any suggestions or feedback; please post in the "Comments" section below or email me at glen@travelingringo.com. One of my goals for '12 is to write for additional print and online outlets, not all necessarily motorcycle-related, and possibly do some television projects (on-air, rather than behind the camera) as the Travelin' Gringo. I'll keep you posted.
Thanks to all for your readership and support during 2011. May the New Year bring you health, happiness, and prosperity!