[New Orleans, LA] — If you've been to a parade, picnic, or prison in the Big Easy, chances are you've eaten a Hubig's pie. The delectable dessert has been part of the city's culinary and cultural fabric since 1922, when Simon Hubig opened his bakery in a small warehouse in the Bywater neighborhood.
The diminutive deep-fried delights are such an ingrained part of N'Awlins culture that revelers have been known to dress as Hubig's pies for Halloween and Mardi Gras, and the tasty treats are used as "throws" in pre-Carnival parades. You'll even find them in the city's dark underbelly. "If you're arrested in New Orleans, and you end up in OPP [Orleans Parish Prison], you'll get a pie with your bologna sandwich," according to Drew Ramsey, Hubig's operations manager. For some reason, I find that strangely reassuring.
Ramsey's grandfather and a business partner bought the New Orleans bakery from Simon Hubig in the 1940s, and third-generation members of the Ramsey and Bowman families continue to run the business today. The plant operates five days a week, producing an average of 25,000 pies a day. Apple and lemon are the top-selling turnovers, but you'll also find peach, pineapple, chocolate, and coconut year round, along with seasonal flavors such as blueberry, strawberry, sweet potato, and banana.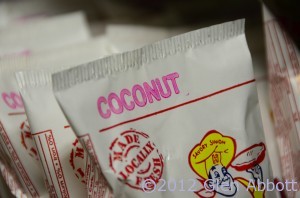 In an age of ubiquitous Little Debbie and Hostess treats, what's the secret to Hubig's longevity? "We buy local products, almost as a religion, whenever possible," Ramsey says. "Local blueberries, local strawberries, local sweet potatoes, sugar from the refinery down the road." Everything is prepared on-premises; the sweet potatoes are boiled, peeled and mashed here, and the filling for the chocolate pies is made in-house, not scooped from a can.
"We've been part of their routine, in most cases, longer than they've been alive," Ramsey says. "In most cases, their parents purchased us. We buy from the community, we employ from the community, and we give back to the community, so I would hope that the community rewards us."
After 90 years of Hubig's Pies, I'd say the community is enjoying its just desserts.
Update: Hubig's Pies was destroyed by a five-alarm fire on July 27, 2012. Afterwards, the company announced they would rebuild in a different location, but as of late 2014, there has been no progress. We'll keep you updated.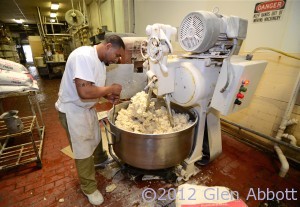 FOR MORE INFORMATION:
Hubig's Pies
800-232-0269