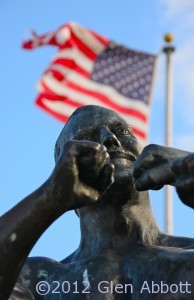 [Kenner, LA] — It was the fight of the century – the nineteenth century, that is – a bare-knuckle brawl for the ages. Professional boxing – the world's first heavyweight title – right here in the Crescent City.
The date was May 10, 1870. Early that morning, a thousand or so boisterous spectators gathered around a makeshift ring on the banks of the Mississippi at LaSalle's Landing in Kenner's Rivertown. It was a rough and tumble crowd according to an account from the time, which noted "…the sudden eruption into our city of a population of men in which the animal predominates over the intellectual… These new comers can all readily be distinguished from old habitués by their broad shoulders, round heads, huge moustaches and flashy watch-chains."
These round-headed ruffians with their fancy watch chains had come for blood. In one corner, "Gypsy" Jem Mace, 165 pounds and Heavyweight Boxing Champion of England; in the other, Tom Allen, 170 pounds, also a Brit, who held the title of American Heavyweight Champion. The winner would be crowned the first Heavyweight Boxing Champion of the World and walk away with a $2,500 purse.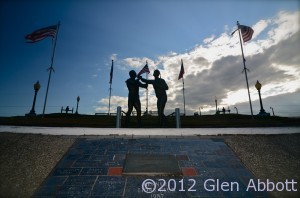 Prizefighting was quite different in the era predating Muhammad Ali, Joe Frazier, or George Foreman (the man, not the grill). Matches were often no-holds-barred slugfests of indeterminate duration, which ended only when the loser was battered to a bloody pulp. Hardly the "sweet science" or "manly art" the popular nicknames implied.
In Britain in 1867, the Marquess of Queensbury had attempted to introduce a modicum of civility to the sport, endorsing a list of 12 rules that, among other things, mandated the use of boxing gloves, instituted three-minute rounds, and forbade the use of spiked shoes.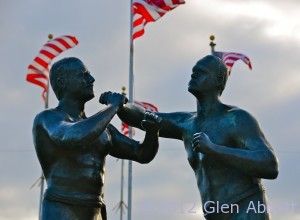 But neither the good Marquess nor his Rules had arrived in 1870 New Orleans, so the fighters kicked it old school, fists unencumbered by gloves. For ten rounds and 44 minutes, the crowd hooted and hollered as Gypsy Jem delivered a pugilistic pounding to his opponent, the likes of which few had ever seen, according to press accounts:
I doubt whether any man ever had such a thrashing as Tom had that day; but he took his gruel like a hero and proved that, so far as gameness went, he was as good a man as his friends had made him out to be, though his scientific attainments were not much more than third-rate.
— from The New York Times, May 11, 1870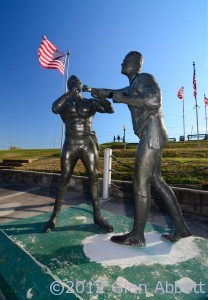 "Gypsy" Jem Mace emerged the victor, winning his title and the financial windfall that came with it. And on the Mississippi River bank in Kenner, at the site of that epic bout 142 years ago, you'll find a life-size bronze statue depicting the fighters in battle stances, commemorating the day flying fists of fury earned "Gypsy" Jem Mace the world's first heavyweight crown.
Thanks to the following online sources I used for background information: http://www.jemmace.co.uk/home.htm and http://www.jemmace.com/1-Introduction.php