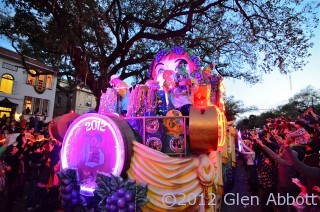 [New Orleans, LA] — I should write something here about Bacchus — the god of wine, winemaking, the grape harvest, and all those good things from Greek mythology.
But frankly I'm a bit hung over.
Just suffice it to say the Krewe of Bacchus, founded in 1968, puts on a heck of a parade. This year's theme, "Bacchus salutes the Louisiana bicentennial" with Will Ferrell as Bacchus XLIV, maintained the tradition — 32 spectacular floats and  "over thirty of the finest and most powerful marching bands seen anywhere in Mardi Gras" according to the Bacchus website.
Hail Bacchus, and pass the hangover medicine!