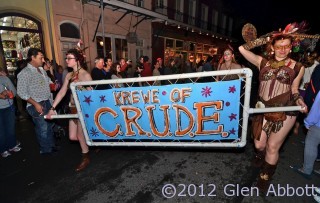 [New Orleans, LA] — Politically correct, no. Socially acceptable, hardly. Family friendly, fuggedaboutit.
And that's why we love it.
Krewe du Vieux's 26th annual parade – among the first of many parades during Mardi Gras season – marched, strutted, and rolled through the French Quarter this past weekend in all its satirical, off-color, decadent glory.
The theme this year was "Crimes Against Nature," and the sub-krewes, with colorful names like Mystic Krewe of Spermes, Drips and Discharges, and Seeds of Decline, didn't disappoint.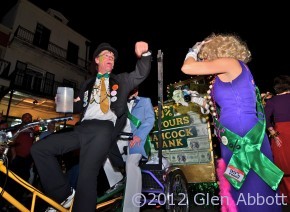 Costumed revelers, mule-driven floats, and 19 brass bands contributed to the atmosphere of colorful, cacophonous chaos (in a good way, of course), in fulfillment of the Krewe's mission, which is "dedicated to the historical and traditional concept of a Mardi Gras parade as a venue for individual creative expression and satirical comment."
'Nuff said. Check out the photos below and see for yourself.
(ADVISORY: some photos contain themes of an "adult" nature) (Duh!)
Krewe du Vieux official website: http://www.kreweduvieux.org/