It may be the best-kept secret in New Orleans' Gentilly neighborhood – a small batch, premium rum distillery operating from a warehouse tucked into an industrial pocket of Frenchmen Street.
"We're definitely off the beaten path, you know?" says Parker Schonekas, General Manager of Celebration Distillation, makers of Old New Orleans Rum.
You'd expect rum and New Orleans to go together like pirates, parrots, peg legs, and eye patches. Given the plethora of drive-through daiquiri establishments and the sheer volume of Hurricanes and other imaginatively named, rum-laden drinks consumed here, rum has to be one of our favorite distilled spirits. And let's not forget all that sugar cane — rum's raw ingredient — grown and processed in the state.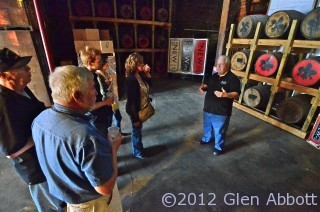 But surprisingly, Celebration Distillation is currently the only rum distillery in all of Louisiana — although another company has announced it will open near Lake Charles later this year.
"We're also the oldest premium rum distillery in the [continental] United States," Schonekas adds.
Celebration Distillation – founded in 1995 by local artist James Michalopoulos – is working to get the word out, and offers tours of its distillery six days a week. The cost is $10 per person, which includes a cocktail beforehand (on my tour it was a "Cajun Tea" — Community Tea blended with Celebration's superb Cajun Spice Rum and simple syrup), and samples of each of the distillery's four products afterwards.
Those varieties include a white rum, called "Crystal;" an amber rum that's aged three years in charred American oak barrels; the Cajun Spice, and a super-premium variety, aged 10 years.
The Cajun Spice Rum, in particular, is a true flavor of New Orleans.
"There's chicory in there, there's cayenne pepper, there's dried ginger, nutmeg, cloves, and a couple other spices that we…throw into the infusion tank," Schonekas says. "There's nothing artificial about it, you can taste the, almost like an earthy taste to it, but there's a spiciness and then a sweetness from the rum."
Tours of the distillery are offered Mondays through Fridays at 12:00, 2:00, and 4:00 pm, and on Saturdays at 2:00 and 4:00 pm.  You can show up at the distillery – no reservations required – or call 'em in advance to reserve complimentary van pickup at designated times in the French Quarter, at either Erin Rose Bar at 811 Conti St. or at the Organic Banana in the French Market.
"It's a very reasonable price, it takes about an hour, and you get a good amount of booze while you're on it!" says Schonekas with a hearty laugh.
Sounds like a no-brainer, right?
The essentials:
Celebration Distillation
Old New Orleans Rum
2815 Frenchmen St.
New Orleans, LA 70122
504-945-9400
http://www.oldneworleansrum.com/