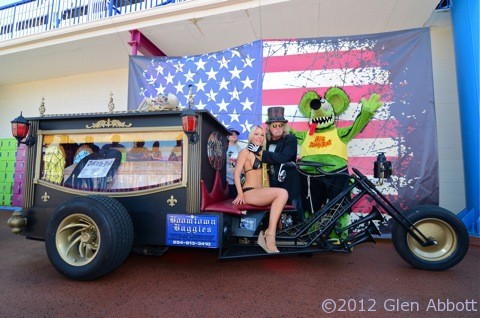 [Daytona Beach, FL] — If 2012 isn't the Year of the Rat, it should be.
One of the must-see events of Daytona Bike Week is the Rat's Hole Custom Bike Show, now in its 40th year.
Although "Big Daddy Rat" — the legendary Karl Smith — passed away in 2002, his son Ted continues the tradition, putting on a show that seems to get bigger and better each year, attracting a wide variety of machines in various categories.
A trophy from Rat's Hole confers instant bragging rights. Just ask Conrad "Smitty" Smith, who's won first place in the Rat Bike category numerous times with his '46 Knucklehead Rat, and won first place again this year.
Congratulations to Smitty, and to all the other trophy winners at one of Daytona's best-known motorcycle shows!