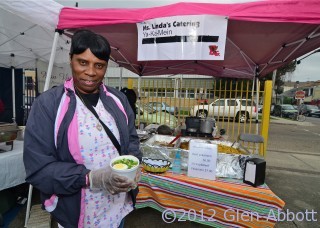 Everyone in New Orleans knows Miss Linda.
If you've ever been to a festival, a parade, or a concert in the city – and if you haven't, you need to get out more, with all due respect – you've undoubtedly seen her, selling Ya-Ka-Mein and other delicious recipes from a tent, a table, or from the back of her truck.
"Ya-Ka-Mein is one of New Orleans well-best-kept secrets," Miss Linda will tell you. "It is a soup. They call it Old Sober."
It acquired its nickname due to its alleged curative powers after a night – or maybe a day (this is New Orleans, after all) – of heavy imbibing.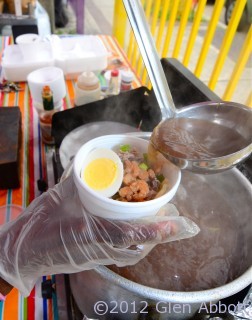 "You have noodles in it, you have a hard-boiled egg," Miss Linda explains. "You have green onion. You have any type of meat you want, but I use a boneless chuck roast. And you have green onions, scallions. And you put all of that together, and you put that sauce. Now that sauce is the Ya-Ka-Mein."
The recipe is a family, and a cultural, tradition.
"It always has been in the black community. My mom used to do it. She used to sell it. She worked with the school board, like I did."
After Katrina, Miss Linda needed a job, and her cooking skills were her salvation.
"Since the school board didn't call anyone back, I just decided to go out on feet," she says. "And I have been going out on feet and haven't looked back yet. I've been rolling with the Ya-Ka-Mein."
And roll she has, attracting attention near and far.
Anthony Bourdain featured Miss Linda on a segment of the Travel Channel's "No Reservations" filmed in New Orleans. She was interviewed by Larry the Cable Guy [!] for a History Channel program. And she's appeared on the Cooking Channel's "United Tastes of America."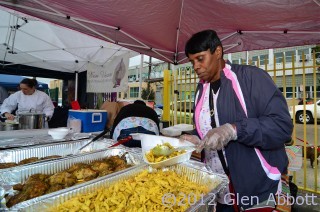 She's also appearing in an upcoming episode of a popular cooking show, which she's not supposed to talk about yet (sources tell me it's "Chopped,' on Food Network).
A lot of notoriety for the humble, 53-year old New Orleans native.
"I love my city," she says proudly. "I love my city. My city is very, very good to me."
And it's obvious her city – indeed, her country – loves her back.
"When Anthony Bourdain put that Ya-Ka-Mein in his mouth and, that expression, that whole expression told me. He didn't even have to say anything. That expression told me everything."
Here in New Orleans, Miss Linda seems to be everywhere; it's a big job satisfying the stomachs of this city: "I work hard. I works hard. And someone say, you one of them hard-workin' women in Louisiana. I say, I'm one of 'em. I am one of 'em. I mean, I love what I do. I love this. I love cooking."