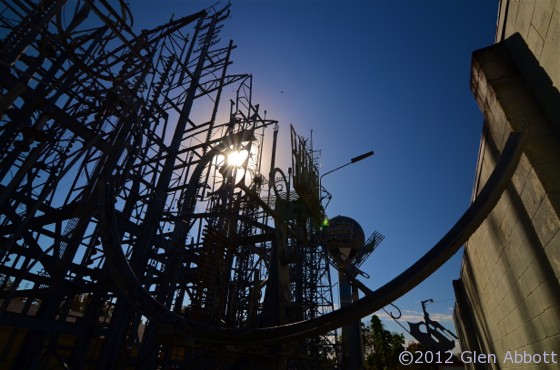 [Brownsville, TN] — The artist calls it The Mindfield, but it's really more of a mind f*#¢.
Sandwiched on a narrow plot of land between a barbershop and an appliance rental store, The Mindfield is a massive outdoor metal sculpture, said to be the largest in Tennessee. Brownsville artist Billy Tripp began the artwork in 1989, using steel girders and other salvaged metal; among the installation's parts are a salvaged water tower and a fire tower.
The sculpture's soaring steel girders represent events and details of the artist's life. It's a constantly evolving work, and Tripp plans to be buried at the site when he dies.
It's easy to miss The Mindfield, located in the small West Tennessee town of Brownsville about 65 miles northeast of Memphis. At first glance, you might mistake it for a power station with its tangle of grey steel girders and flocks of birds circling overhead. But I'd been alerted to its existence by Sonia Outlaw-Clark, director of the West Tennessee Delta Heritage Center in Brownsville.
"It's just right off our courthouse square, and lots of people come here to see it," she told me. "Most people consider it folk art. It's very interesting, and [Billy Tripp] is a very interesting character."
I didn't get to meet Tripp, but I admire his spirit and dedication to his work — although not all the locals apparently do. "Some of them hate it," Sonia told me.
I guess art's not art unless it's ruffled a few feathers.
PHOTO GALLERY: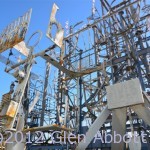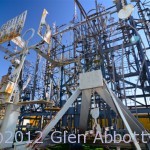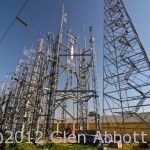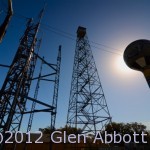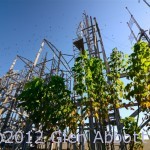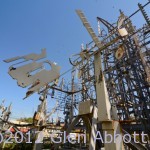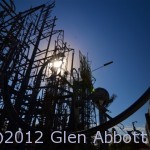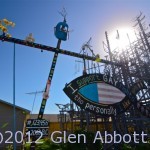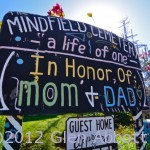 MORE ABOUT THE MINDFIELD:
From Roadside America: http://www.roadsideamerica.com/tip/7403
Billy Tripp's website: https://sites.google.com/site/billytripp/
West Tennessee Cultural Odyssey website: http://www.westtnculture.com/mindfieldInfo.html
Tennessee tourism: http://tnvacation.com
West Tennessee Delta Heritage Center: http://westtnheritage.com