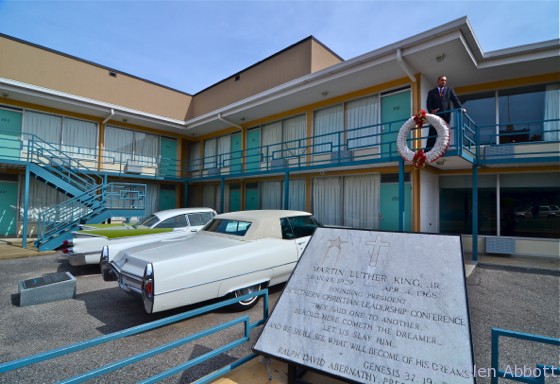 [Memphis, TN] — The assassin's bullet that tragically ended the life of Dr. Martin Luther King Jr. on April 4, 1968 sent shock waves throughout the world and rattled the American Civil Rights Movement to its core.
Although Dr. King died that day on the balcony of the Lorraine Motel in Memphis, Tennessee, his dream — of equal rights and social justice for all — has lived on and inspired generations.
The National Civil Rights Museum opened on the site in 1991, centered around the preserved Lorraine Motel. Since opening, the museum has attracted more than 3 million visitors, drawn by Dr. King's legacy and the story of the struggle for civil rights.
The museum is currently undergoing a $27-million renovation, to be completed by early 2014. Although the Lorraine Motel exhibits are currently closed, during the renovation visitors will be able to access the balcony Dr. King was standing on, outside room 306, when he was assassinated — the first time the general public has been allowed balcony access (balcony access is available beginning November 19, 2012). In addition, the museum's Legacy Building across the street, which includes the rooming house from which assassin James Earl Ray fired the fatal shot, will remain open. Admission prices have been reduced during renovation to $10 for adults and $8 for children 4-17.
I was fortunate to have been able to tour the museum several weeks ago before the renovation began, and am very grateful to have had the opportunity to speak with Rev. Samuel "Billy" Kyles, a museum board member and an example of living history: Rev. Kyles was one of three men in room 306 and on the balcony when Dr. King was killed (in addition to Rev. Kyles and Dr. King, the other was Rev. Ralph Abernathy).
His memories of that day are chillingly vivid more than 40 years later, remembering Dr. King's senseless death.
"All the things he could have been. All the things he could have been,"  said Rev. Kyles softly. "Yet he dies on a cold, concrete floor. In Memphis. Tennessee." Then Rev. Kyles' voice rose, taking on a preacher's cadence: "And they say, we will shoot this dreamer and see what happens to his dream. And the witness comes forth, and say, yes, regretfully, I can tell you, you can kill the dreamer. But no, absolutely, you cannot kill the dream. The dream is still alive."
FOR MORE INFORMATION:
National Civil Rights Museum
450 Mulberry St.
Memphis, TN 38103
Phone: (901) 521-9699
http://www.civilrightsmuseum.org
PHOTO GALLERY: