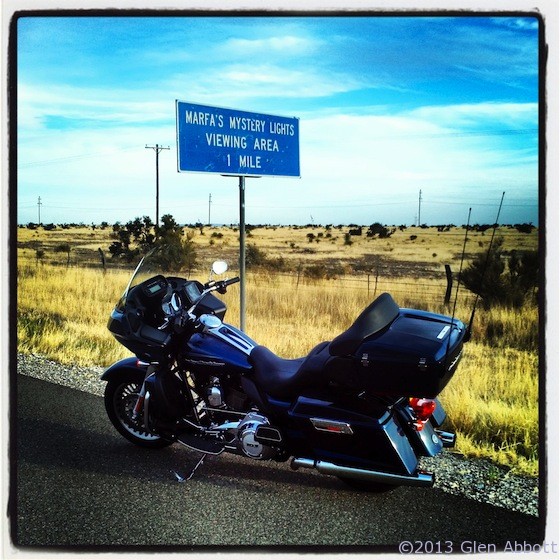 Marfa, TX — When it comes to unexplained phenomena, the Marfa Mystery Lights rank right up there with the best of 'em.
Marfa, in the Big Bend region of southwest Texas, is an isolated former ranching and farming community which has gained great popularity in recent years, thanks to an influx of tourists and residents from the arts community, starting with minimalist contemporty artist Donald Judd in 1971.
The Marfa Mystery Lights have been around much longer, however.
Nine miles east of town on a lonely stretch of US 90, you'll find the Marfa Lights Viewing Area. Every evening starting around dusk, hordes of visitors come, hoping for a glimpse of the legendary lights.
Sightings have been reported since the 1800s, but if you come here expecting to see the aurora borealis, you're going to be disappointed.
What you'll see are flashing lights in the distant mountains. To me, they looked like car headlights, or reflections of car headlights.
On the night I visited, I'd guess probably 50 to 100 people had gathered there, including a large group of middle school students on a field trip.
Some people seemed quite excited by the phenomenon, but others — myself included — left asking, "Is that all there is?"
Of course, no visit to Marfa is complete without a visit to the Mystery Lights Viewing Area — so I'll leave it at that, and let you decide for yourself.